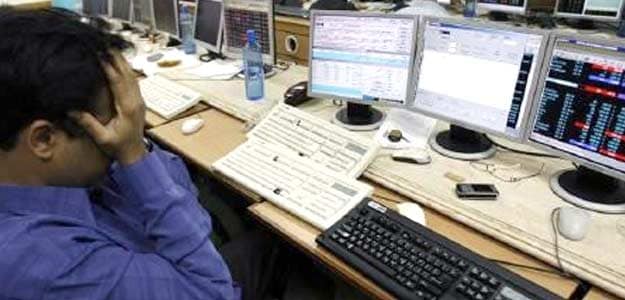 The BSE Sensex fell over 3 per cent on Tuesday in its biggest loss since the rupee crisis in September 2013, when the rupee was still reeling from its worst market turmoil since the 1991 balance of payment crisis. An unrelenting slide in oil prices and political uncertainty in Greece weighed on stock markets across the globe.
(Also Read: Oil's Fall Continues, Stock Markets Shudder)
The BSE Sensex fell over 900 or nearly 3.3 per cent when it hit 26,937 at its day's low. It closed at 26,987, down 854 points or 3.07 per cent, in its biggest percentage loss September 2013. In terms of absolute value, it is the biggest one-day point drop since July 6, 2009.
The broader Nifty fell 3 per cent or nearly 250 points, to 8,127.
Oil explorers declined tracking the fall in US crude oil below $50 per barrel. Reliance Industries fell 5 per cent, while Oil and Natural Gas Corp slumped 6 per cent.
"Markets are reading the slide in crude oil prices as a symptom of potential recession in the world economy. Some more fall will actually make India further attractive for investment," said G. Chokkalingam, founder of Equinomics, a research and fund advisory firm.
Analysts say domestic shares could be vulnerable to falls, with the Nifty having gained 31.4 per cent in 2014, its best gain since 2009, although they say hopes about an economic recovery and fiscal reforms could prevent excessive declines. Foreign investors bought over $16 billion in Indian equities last year.
Anil Manghnani, director of Modern Shares & Stock Brokers, said the Sensex slump today does not signal the end of bull market and it is just a corrective phase within a bull market. The Nifty downside looks capped at 7600-7700, Mr Manghnani said.
Earlier in the day, the Nifty January futures contract fell as much as 5 per cent to 8,000 points, which multiple dealers attributed to an unusual trade relative to where the contracts were trading at. (Read)
The quarterly earnings season kick-starting with Infosys' results on January 9, the RBI's rate decision and the Budget in February are seen as next key triggers for domestic markets.
Blue-chips led losses. ICICI Bank and SBI lost over 4 per cent, while Infosys fell 1.7 per cent.
(With Reuters Inputs)