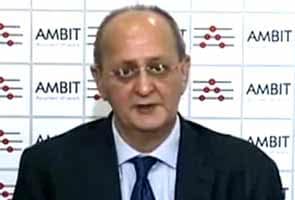 The BSE Sensex crashed nearly 900 points on Tuesday, its worst one-day drop in over five years. Global factors such as the continued slide in crude oil prices and concerns about Greece exiting eurozone triggered the slide in domestic markets, analysts say.
The Nifty, which had a spectacular 2014 with 31 per cent gains, is now down 6 per cent from its life highs till now.
Is there a reason to worry? Andrew Holland, chief executive officer at Ambit Investment Advisory told NDTV that 80-90 per cent of correction in Indian equity markets is over. (Watch full interview)
"I think the down side for India from here is only 2 per cent....we will be very much surprised if it falls very much from here," he added.
Mr Holland doesn't seem to be worried over events in Europe. "I don't think that Greece is going to leave the eurozone anytime soon," he said.
And he thinks that the turmoil in oil market is "about to be over".
There are few countries in the world which can offer growth and yield, he said. India offers both growth and yield, which will continue to attract foreign funds, he added.
"I don't see trillions of dollars just leaving the market just for sure," Mr Holland said.
According to Ambit, the key trigger for India in 2015 will be falling interest rates. The brokerage expects 100 basis-point cut in interest rates in the first half of 2015.
Falling oil prices will create the ground for RBI to cut interest rates, says Mr Holland. Indian companies, which are currently burdened with huge debt will get relief from falling interest rates, he added.
Ambit says lower rates may not trigger an immediate capex cycle but it will alleviate the interest rate burden of Indian companies and their working capital requirements and boost their bottom-line.