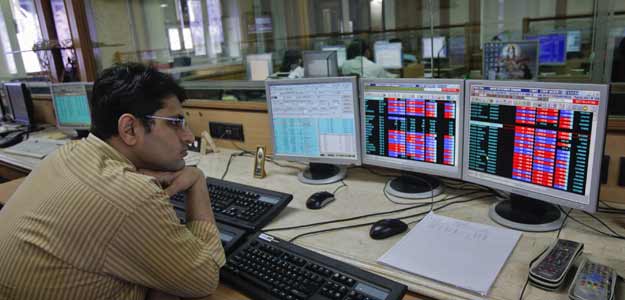 Indian stocks markets gave up some early gains on profit-taking after Friday's sharp gains.
At 10:15, Sensex was down 25 points at 20,857.88, after touching 20,970.9 at its day's high. The Nifty was off 5 points at 6,184.50. At its day's high, Nifty has hit 6,218.80.
L&T, which announced better-than-expected earnings on Friday, was up nearly over 4 percent. Shares in UltraTech Cement slumped as much as 4.76 percent on Monday after the country's largest cement maker posted a 52 percent fall in net profit for the July-September quarter.
The Sensex has gained nearly 7 percent so far this month, driven up by strong foreign inflows. Foreign institutional investors (FIIs) bought Indian cash shares worth Rs 1,752 crore on Friday, an eleventh consecutive session of purchases, bringing the total to Rs 9,310 crore.
Strong foreign inflows, stable rupee and expectations of a better economic growth during the second half of the fiscal year are driving Indian markets higher, said Deven Choksey, MD of KR Choksey Securities. "I expect the Nifty to trade between 5800-6300."
"Markets are unlikely to go down in a hurry. So any correction can be used to accumulate stocks," he said.
The rupee was lower in opening trade at 61.43/dollar vs previous close of 61.27.
Asian markets were firm today, with the MSCI's broadest index of Asia-Pacific shares outside Japan inched up 0.2 per cent to a five-month high.
Australian shares climbed to a five-year peak on Monday, drawing confidence from another record high on Wall Street as investors bet the Federal Reserve will put off winding back its cheap money policies until next year.
Many analysts think the Fed will be wary of scaling back its $85 billion-a-month bond-buying programme until the economic impact of a 16-day partial shutdown of the U.S. government is clearer.
Investors face a deluge of U.S. data this week as reopened government departments catch up with their work, with September nonfarm payrolls report on Tuesday seen as the most important. Barclays Capital analysts said a strong reading in the U.S. jobs data could see markets pare back expectations of a delay in the Fed's tapering, which would lead to a rally in the dollar.
On Friday, Wall Street capped its biggest weekly gain in three months on stronger-than-expected earnings from the likes of Google and Morgan Stanley. The benchmark S&P 500 index rose 0.7 percent on Friday to close at a second-straight record high. (With Reuters Inputs)