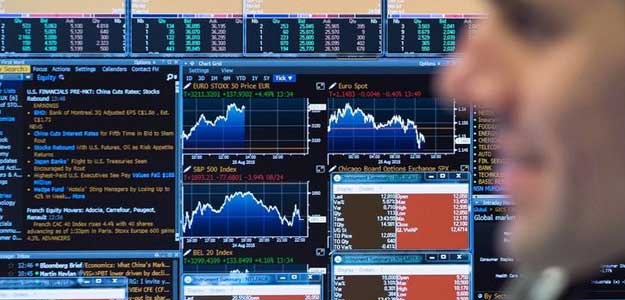 London:
European investors edged back into safer assets on Wednesday as a shootout between French police and militants suspected of involvements in the Paris attacks kept the market focused on international security issues.
Stocks fell and yields on government bonds dipped, but the scale of the moves reflected caution rather than significant concern, economists said.
The pan-European FTSEurofirst 300 index, which had risen 2.6 percent on Tuesday, fell 0.4 percent while the euro zone's blue-chip Euro STOXX 50 index declined by 0.7 percent. U.S. stock futures were up, however.
Some European travel and leisure stocks lost ground, though they were in line with the overall market.
German Bund yields fell 3 basis points and dipped below 0.50 percent for the first time in three weeks.
"There is a bit of a safety bid for core bonds from the nervous energy around events in Paris," said Matthew Cairns, fixed income strategist at Rabobank.
The dollar was just off seven-month highs against a basket of currencies, as minutes from the latest Federal Reserve policy meeting were expected to underpin expectations of an interest rate hike in December.
The strong dollar hurt commodities, with zinc, lead and nickel hitting their lowest in five to seven years. Copper was close to six-year lows.
Friday night's attacks in the French capital, claimed by Islamic State, triggered security alerts around the world, with an international soccer match called off in Germany and two Air France flights from the United States diverted. The planes were later declared safe.
In Paris, gunfire and explosions shook the suburb of St Denis early on Wednesday as police raided an apartment where a Belgian suspected of masterminding the attacks was believed to be holed up.
The European Central Bank is expected to supercharge monetary policy easing next month, a prospect the attacks have made even more likely.
The bank's chief economist Peter Praet said on Tuesday that such events hurt confidence though executive board member Yves Mersch said on Wednesday that "doom and gloom" talk was at this stage not warranted.
"There's absolutely no reason not to expect the ECB to ease next month and we've had further falls in commodity prices that adds to the subdued inflation outlook," said Chris Scicluna, head of economic research at Daiwa Capital Markets in London.
"The events in Paris compound that and compound the weaknesses in the euro area."
Germany saw an auction of two-year bonds receiving fewer bids than the amount on offer for the first time since Feb. 2012 on Wednesday after ECB easing expectations drove yields in the secondary market to record lows of -0.383 percent this week.
Fed Minutes
The dollar index was lower at 99.483 after touching 99.745 on Tuesday, its highest since mid-April. It has risen 6.3 percent in the past month as market odds for a U.S. rate hike in December moved from around 30 percent to 66 percent.
This week's data further cemented rate hike expectations. Monthly U.S. consumer prices increased in October after two straight months of declines, putting annual core inflation at 1.9 percent.
Industrial output fell short of market expectations but output in the manufacturing sector posted a solid increase.
"It will be a case of range-trading going into the Fed minutes. We could see some positions being pared, with the dollar having risen in the past few weeks," said Jeremy Stretch, head of currency strategy at CIBC World Markets.
The dollar's dip saw the euro regain some ground. It rose to $1.0670, having dropped to a seven-month low of $1.0630 on Tuesday.
Gold hit a 5-1/2-year low of $1,064.95 per ounce overnight as the strong dollar offset its traditional safe-haven appeal. In Europe, it was up 0.1 percent at $1,070.80 an ounce. [GOL/]
Oil prices rose following reports of falling stockpiles and rising refinery activity in the United States, though they remained not far from 6-1/2-year lows hit in August on persistent concerns about a global supply glut.
U.S. crude futures were up 75 cents at $41.42 a barrel, while Brent crude futures were up $1.06 at $44.63 per barrel.
© Thomson Reuters 2015