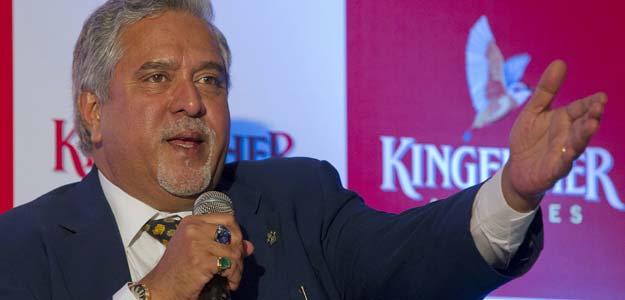 Highlights
Vijay Mallya has denied fund diversion allegations by United Spirits
Sebi has stepped up probe in allegations on Mallya, an official says
USL had disclosed improper transactions involving Mallya-linked entities
New Delhi
: In mounting troubles for embattled businessman Vijay Mallya, the Securities and Exchange Board of India (Sebi) has stepped up its probe into alleged fund diversion from his erstwhile listed group firms to other entities, including some abroad and his various sport ventures.
With the latest disclosures taking total suspected fund diversion at United Spirits alone to over Rs 2,500 crore, market regulator Sebi is also referring to the matter for further action by other agencies including SFIO (Serious Fraud Investigation Office) under the Corporate Affairs Ministry, a top official said.
"We have taken note of the latest disclosure by USL and have begun looking into suspected violation of various securities market regulations including those relating to related party transactions, corporate governance and diversion of funds by promoters and top management," he said.
"Also under the scanner are Mallya's close confidantes and others who were at senior levels at various listed companies of the group, as also some former auditors at certain group firms," the official said.
Action is already underway for violation of listing agreement by some group companies, he added.
The matter of fund diversion would also need to be looked into by the Serious Fraud Investigation Office (SFIO), while the Enforcement Directorate would also come into the picture as the funds are suspected to have been diverted to entities abroad, the official said, adding that necessary assistance would be sought from foreign regulators including in the UK and the US, where Mr Mallya's overseas brewery firms and other ventures are based.
Mr Mallya and his group firms are already facing a probe by the Enforcement Directorate for alleged diversion of loans taken by the long-grounded Kingfisher Airlines.
Sebi has also received complaints about the alleged use of overseas instruments in violation of norms for movement of funds and the matter is being separately looked into.
In a statement, Mr Mallya denied any wrongdoing as alleged by USL, in which he had sold the controlling stake to UK-based liquor giant Diageo in 2013 in a multi-billion dollar deal, and said all the transactions were "
legal and above board
".
Serving a fresh blow to Mr Mallya, USL on Saturday disclosed fund diversion and improper transactions worth Rs 1,225.3 crore involving entities linked to the former chairman, including Kingfisher Airlines and his Formula One team.
The company also made it clear that the earlier settlement reached with the Indian businessman would not absolve him of the claims arising out of the latest findings of an internal "Additional Inquiry".
Mr Mallya, who has been in UK for months evading an arrest warrant in India while several banks have declared him a wilful defaulter for non-payment of dues worth over Rs 9,000 crore by his now-defunct Kingfisher, had struck a settlement with USL in February.
Under the sweetheart deal, he was promised an over Rs 500 crore payout to leave the company and was also absolved of any "personal liability" at that time.
USL's board had ordered an additional inquiry to plug gaps found in an initial probe launched in April 2015 that showed improprieties in loans worth Rs 1,337 crore given by USL to the entities linked to its erstwhile promoters.
"The additional inquiry prima facie reveals further instances of actual or potential fund diversions amounting to approximately Rs 913.5 crore (using exchange rate as on March 31, 2015) as well as other potentially improper transaction involved USL and its Indian and overseas subsidiaries amounting approximately Rs 311.8 crore," USL said.
The transactions occurred during the review period covered by the additional inquiry - from October 2010 to July 2014 - although certain transactions appear to have been initiated in years prior to the review period, USL said.
"These improper transactions identified in the additional inquiry involved, in most cases, the diversion of fund to overseas and Indian entities that appear to be affiliated or associated with USL's former non-executive Chairman, Dr Vijay Mallya," the USL filing said.
The company said its mutual release agreement with Mr Mallya in February this year, under which Diageo agreed to pay him $75 million dollars, will not cover the matters arising out of the additional inquiry.
"The USL Board has directed the management to pursue recovery from the relevant companies and individuals and undertake any action, including legal and regulatory as deemed necessary. It should be noted that the February 2016 agreement did not release the former Chairman from any claims arising out of the additional inquiry," a USL spokesperson said.
USL said the overseas beneficiary or recipients of the diverted funds include entities such as Force India Formula One, Watson Ltd, Continental Administrative Services, Modall Securities Ltd, Ultra Dynamics Ltd and Lombard Wall Corporate Service Inc "in each of which Dr Mallya appears to have a material, direct and indirect interests".
The Indian beneficiaries or recipients of the funds identified by the additional inquiry included, in most cases, Kingfisher Airlines (KFA), USL said.
USL said it will be reporting the findings of its additional inquiry spearheaded by its managing director and CEO Anand Kripalu to concerned authorities for further action.
The board has also directed its MD and CEO to take appropriate action in relating to the employees named in the additional inquiry, while a further review would be conducted of the "ongoing relationships with the counter-parties involved in the improper transactions indemnified by the Additional Inquiry".
Last month, the Enforcement Directorate had attached assets worth Rs 1,411 crore belonging to Mr Mallya and one of his companies in connection with its money laundering probe in the alleged IDBI bank loan default case.
Mr Mallya is currently in the UK after leaving India in March this year. His passport has been revoked by the Indian government. He has been indicating against any imminent return in the wake of various legal and regulatory troubles.
Refuting the charges by USL, Mr Mallya said Diageo had conducted an extensive due diligence before buying the shares and it was "surprising and unfortunate" that these allegations were being made now.
"I have absolutely no knowledge about this purported enquiry by E+Y nor the suggested allegations. Surprisingly neither USL nor E+Y have given me any details of the allegations or any opportunity to respond," he said.
"I can only reiterate that all transactions were legal, above board and approved by USL auditors, the USL Board and shareholders. Over and above this Diageo conducted an extensive due diligence on USL prior to acquiring shares. It is surprising and unfortunate that unfounded allegations are now being made without any reference to me whatsoever," he said.
While USL did not name 'E+Y' among those that conducted the enquiry, it said that the company's CEO had engaged "independent experts with specialised forensic skills" to assist in the inquiry and provide inputs and expert advice.