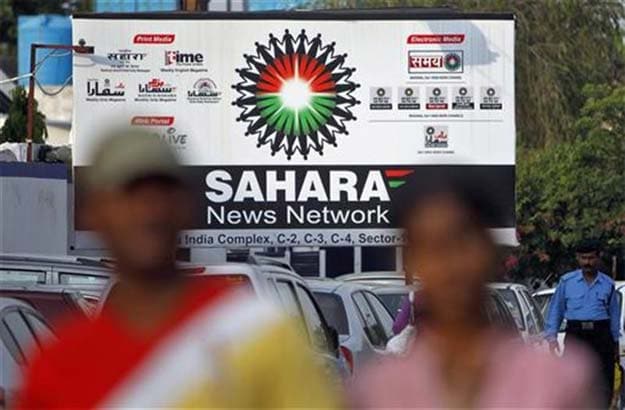 The Securities and Exchange Board of India (Sebi) has ordered a freeze on the assets and bank accounts of two Sahara group companies, saying they had failed to heed a Supreme Court order to repay investors in a case involving more than Rs. 24,000 crore.
According to some media reports, more than 100 bank accounts of the group were affected by the order.
The market regulator has also ordered a freeze on all bank accounts and properties in the name of the Sahara Group founder, Subrata Roy, and three other directors of the two firms, Sahara Housing Investment Corporation and Sahara India Real Estate Corporation, according to two separate orders posted on the regulator's website.
The orders, posted late on Wednesday by Sebi, have escalated the battle between the regulator and unlisted Sahara.
In a statement issued after the Sebi order, Sahara said the directives were based on old facts and had not taken into account redemptions it has made since January 2012, adding that its total liability was unlikely to exceed the Rs 5,120 crore it had deposited with the regulator. It added that the orders for attaching assets of individuals are "incorrect".
"Today's order of Sebi for attachment of the assets is based on old facts and details of assets as of January 2012. Since, then (the) facts have changed in view of redemptions made by Sahara from time to time," it said. (Read Sahara's full statement here)
Sahara also said it had appealed the Supreme Court's December order to deposit additional money with the regulator and that a hearing is likely next week.
Sahara owns the Grosvenor House hotel in London, and last year struck a deal to buy the Plaza Hotel in New York.
The group was ordered in August to repay sums raised by what the court called "dubious" means from nearly 30 million small investors, with 15 per cent interest a year. The two Sahara firms raised a total of Rs 2,578 crore in bonds as of April 2011, according to Sahara court affidavits cited by Sebi.
In December the court ordered Sahara to pay an initial deposit of Rs 5,120 crore with Sebi, pay another Rs 10,000 crore in the first week of January and the remainder in the first week of February.
The companies have said that only Rs 2,620 crore remains to be refunded as they have repaid the remainder, Sebi said, an assertion the regulator disputes.
The Sebi statement said its order would be implemented with immediate effect and that the Reserve Bank of India and the Finance Ministry's Enforcement Directorate would be informed about the development.
The two Sahara group companies were asked to give details of any investment other than those mentioned in the order within 21 days, according to the order on the regulator's website.
With inputs from Reuters and PTI