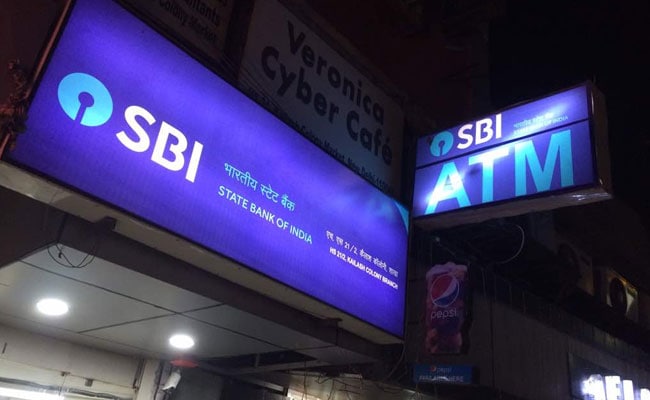 SBI or State Bank of India, which accounts for more than a fifth of India's banking assets, charges a penalty up to Rs. 100 (plus GST of 18 per cent) per month for not maintaining monthly average balance (MAB) in savings bank accounts. From July 1, tax on banking has been revised to 18 per cent under Goods and Services Tax (GST), the new indirect tax regime. The Reserve Bank of India (RBI) has allowed banks to levy charges on non-maintenance of minimum balance in normal savings accounts. Customers holding SBI savings bank accounts in metro, urban, semi-urban and rural branches need to pay different penalty amounts for non-maintenance of monthly average balance, according to SBI's website.

SBI has specified penalty for various ranges of shortfall for its savings bank customers depending on the categories of branches - rural, semi-urban, urban and metro. For example, if your SBI savings bank account is in one of the metro city branches, you need to maintain a monthly average balance of Rs. 5,000. Also, if the average balance maintained during a month comes out to be between zero and Rs. 1,500, or a shortfall of more than 75 per cent, a non-maintenance charge of Rs. 100 plus GST of 18 per cent will be levied for the month. In case the average balance remains within Rs. 1,500 and Rs. 2,500, which means a shortfall of less than 75 per cent and more than 50 per cent, a charge of Rs. 75 plus taxes will be levied, SBI has said.

Meanwhile, for savings accounts with average balance of more than Rs. 2,500, SBI will charge a penalty of Rs. 50, plus taxes.


However, for account holders in urban areas other than metros, semi-urban and rural areas, the MAB requirements are Rs. 3,000, Rs. 2,000 and Rs. 1,000 respectively.
SBI charges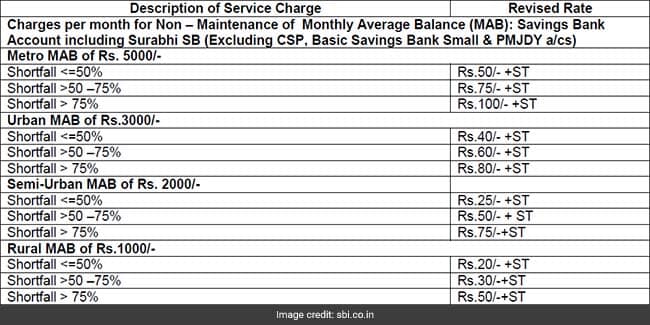 SBI ATM Withdrawal Rules
SBI has said that its savings bank account customers will continue to get eight free ATM transactions a month (five at SBI ATMs and three at ATMs of other banks) in metro cities and 10 free transactions in non-metro cities (five at SBI ATMs and five at ATMs of other banks). Transactions exceeding the permissible limit of free ATM transactions will attract a charge of Rs. 20 plus GST of 18 per cent (on all ATMs). Even if your transaction gets declined due to insufficient balance, then also you will be charged Rs. 20 plus tax for the transaction. In case of card-less withdrawals at ATMs fees will be Rs. 22 plus tax per transaction.
However, customers of SBI's
Basic Savings Bank Account
will get only four ATM free withdrawals per month, SBI added. After the four free ATM withdrawals, customers of Basic Savings Bank Account will be charged Rs. 50 plus tax for cash withdrawal at an SBI branch, Rs. 20 plus tax at other bank ATMs and Rs. 10 plus tax at SBI ATMs.