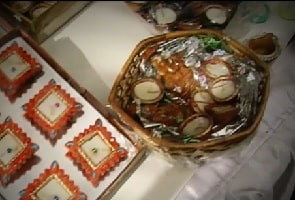 Samvat 2070, the one-year period from previous Diwali to Wednesday, turned out to be the best for Indian stocks in five years. Analysts expect Samvat 2071, which begins on Thursday, to be even more profitable for investors. (Read the full story)
Here are the triggers that are likely to propel domestic equities over the next year:
1) Economic turnaround: India registered the best GDP growth in nine quarters between April and June, 2014. If the momentum continues, the Indian economy is likely to return to the 8 per cent growth path within a few years.
2) Weak Oil Prices: Brent crude, which has hit a four-year low, is another big positive for Indian economy. Falling crude prices will further narrow current account deficit and support the rupee. Subsidies will come down, leaving more funds for productive investment.
3) Rate cut: A sharp slide in inflation has put pressure on the Reserve Bank to cut rates. Interest rate cuts will be the biggest trigger for markets. A benign rate regime is likely to push corporates to start investing, leading to higher productivity for the economy. Rate cuts will also incentivize consumers to spend more, leading to higher spending and productivity.
4) Corporate profits are likely to go up tracking softness in raw material prices and rate cuts in the future. This should fire up stocks.
5) Reforms: The Narendra Modi government has kicked off reform measures with diesel decontrol, gas price hike and Direct Benefit Transfer for LPG. The move to open up coal sector to private miners is another big positive. Quick decisions on further reducing subsidies, increasing FDI in insurance sector and implementing GST will cheer markets.
Karvy Stock Broking has put out a Sensex target of 29,300 by next Diwali, saying it expects significant outperformance from sectors like public sector banks, capital goods and infrastructure, where valuations are extremely subdued.
Here are some stocks investors can buy in Muhurut trading for next Diwali:
1) Motilal Oswal has a buy on SBI (target Rs 3430), Bharti Airtel (target Rs 540), Hero MotoCorp (target Rs 3580) and DHFL (Rs 480).
2) India Nivesh Securities has a buy on Ashiana Housing (target Rs 202), Capital First (target Rs 360), Meghmani Organics (target Rs 34), Pennar Industries (target Rs 81) and Reliance Industries (target Rs 1,111).
3) HDFC Securities' top picks include Reliance Industries (target Rs 1,140), Tata Communications (target Rs 460) and L&T (target Rs 1675).
4) Nirmal Bang: Ajanta Pharma (target Rs 2,121), Yes Bank (target Rs 678), Sharda Cropchem (target Rs 328)
Disclaimer: "Investors are advised to make their own assessment before acting on the information."