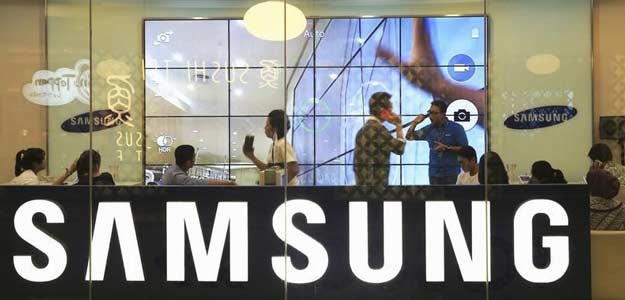 Seoul:
Smartphone leader Samsung Electronics Co Ltd faces a third straight quarter of profit decline that could become a fourth as cheaper models grab a bigger share of a slowing market and Apple Inc readies the launch of its iPhone 6.
Samsung Electronics' woes, exacerbated by a won that has risen to a six-year high against the dollar, come at an awkward time for the flagship of South Korea's largest conglomerate. The maker of the Galaxy smartphone is expected to say on Tuesday that earnings likely fell 12.6 per cent for the quarter ended June, according to a Thomson Reuters I/B/E/S poll.
The group's patriarch Lee Kun-hee has been hospitalised since May following a heart attack, and the succession map for his three children - including heir-apparent Jay Y. Lee - remains unclear.
"Samsung's heyday has gone. Its profit growth was abnormally high for the past three to four years, and now that is normalising," said Chang Sea-Jin, a business professor at Korea Advanced Institute of Science and Technology and author of the book "Sony vs Samsung".
An analyst say Samsung's top-end Galaxy S5 handset, released in late March, is selling well but not well enough to offset weaker shipments for low- and mid-tier devices. Its next big product launch, the Galaxy Note 4, is expected later this year but is not forecast by analysts to be a game-changer.
Its foray into wearable devices like the Gear smartwatch, meanwhile, remains at an early stage and faces tough competition from Apple and others. That leaves Samsung Electronics under margin pressure and without a clear new growth driver for the immediate future.
"Samsung's heir apparent has no magic wand. It's not something he can tackle in one or two years," said Chang.
Samsung has said it will boost dividends, and those plans are expected to be detailed when full results for the three months ended June are released later this month.
That may placate investors who have sent its shares down about 5 per cent this year, lagging the flat performance of the benchmark Korea Composite Stock Price Index.
Some analysts have also said it could buy back shares this year, part of a broader group restructuring tied to succession.
"Obviously, paying dividends is better than nothing, but I question how much merit there is to that given how tech companies are supposed to be growth stocks," said Um Joon-ho, fund manager at Kiwoom Asset Management.
Samsung's cash cow handsets business is suffering from slowing market growth and improving product quality from Chinese manufacturers such as Huawei Technologies Co Ltd and Lenovo Group Ltd.
Research firm IDC expects global smartphone shipment growth this year to slow to 19.3 per cent from 39.2 per cent last year, while average sales prices are also seen falling.
Samsung's first-quarter market share fell to 30.2 per cent from 31.9 per cent a year earlier, according to IDC. Huawei and Lenovo gained share.
Samsung's shipments were hurt by an apparent move by Chinese carriers to promote cheaper local brands, analysts said.
"If Samsung lowers the prices for its mid-to-low tier line-up, that will hurt their short-term profits, but their competitors will have to slash prices too and may not be able to turn profits," IBK Securities analyst Lee Seung-woo said.
"In the medium to long term, this is the way to pressure the competition."
Managing Expectations
Samsung's chief financial officer recently warned that results for the second quarter will be "not that good."
Twenty-two of 38 polled have cut their earnings forecasts since mid-June, according to Thomson Reuters data.
Some have pointed to slower-than-expected take-up of 4G mobile services in China as a problem for Samsung in the April-June quarter. China Mobile Ltd, the country's dominant carrier, reported 8.1 million 4G users at end-May, far short of its plan for 50 million by the end of the year.
Compounding the problem is the strength of the South Korean currency, which was up about 9 per cent on average against the dollar during the second quarter from a year earlier.
The average forecast from 38 analysts surveyed by Thomson Reuters I/B/E/S tips 8.3 trillion won ($8.22 billion) operating profit for the quarter, down from 9.5 trillion won a year earlier, and the weakest level since the third quarter of 2012.
Sales are expected to have slipped an annual 6 percent to 54 trillion won, which would be the first such decline since it adopted IFRS accounting standards in 2009.
For the full year, a poll of 49 analysts forecast Samsung's operating profit would fall around 7 per cent to 34.2 trillion won, which would mark the first drop in three years.
While third-quarter results are expected to improve on the June quarter, handset sales may remain constrained as buyers wait for Apple's next-generation iPhone before making a decision. At least one version of the device may be unveiled around September.
($1 = 1009.6000 South Korean Won)
Copyright: Thomson Reuter 2014