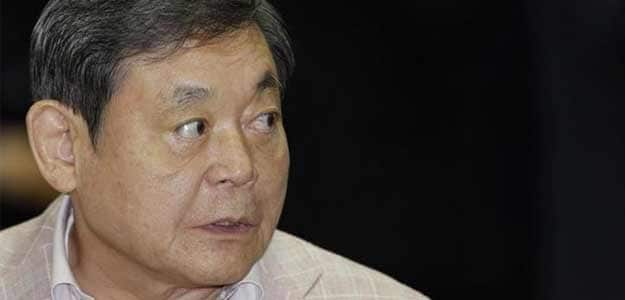 Seoul:
Samsung Electronics Co Ltd chairman Lee Kun-hee fended off a lawsuit by estranged family members demanding the hand over billions of dollars of shares in Samsung companies as a South Korean court ruled in his favor on Friday.
Mr Lee, 71, and Samsung Everland, a de facto holding company for the country's largest conglomerate, were defending against three lawsuits by Mr Lee's relatives seeking nearly $4 billion in assets in Samsung Life Insurance Co Ltd, which sits at the heart of the web of Samsung group shareholdings, and Samsung Electronics, the group's crown jewel.
The lawsuit was unlikely to have deprived Mr Lee of his control over Samsung Electronics, the world's biggest maker of smartphones, TVs and memory chips. But a ruling against him would have diluted his holdings and could have forced a reshuffling of the intricate shareholdings across the Samsung group if he were to retain his grip.
It also came at a key juncture for the electronics giant's successions plans, just months after Mr Lee's son Jay Y. Lee, 44, was promoted to vice chairman. Samsung has come to symbolise the success of South Korea's "chaebol" conglomerates on the global stage, where it is battling Apple Inc and its galaxy smartphone is outselling the iPhone.
A judge at the Seoul Central District Court ruled that Mr Lee could retain more than $1 billion in Samsung Electronics shares and another $1 billion in shares of Samsung Life. Samsung Everland, a small zoo operator, was also allowed to keep its $1 billion stake in Samsung Life. Mr Lee will remain Samsung Life's biggest shareholder with a 20.76 per cent stake.
The lawsuits accused Mr Lee of hiding from his siblings billions of dollars in shareholdings inherited from his father, Samsung's founder, while Mr Lee countered that as his father's chosen successor, he had free rein to transfer group company shares.
Happy together ?
"This is a totally unexpected ruling and we'll decide whether to appeal after discussing with our clients," Cha Dong-eon, a lawyer for the plaintiffs, told reporters. The lawyers for Mr Lee, who had been travelling abroad since early January, said the ruling was reasonable.
Shares in Samsung Life closed nearly 3 per cent higher after the ruling, while Samsung Electronics sagged 0.5 per cent. Seoul's benchmark Kospi fell 0.2 per cent. The trial, which exposed family intrigues behind South Korea's powerful chaebol, coincides with rising public resentment towards the conglomerates, stirred by their dominance in the economy and widening wealth gaps in society.
The ruling comes only a day after Chey Tae-won, chairman of South Korean chaebol company SK Holdings Co Ltd, was sent to prison on embezzlement charges, as the country seeks to level out the playing field between big business groups and the "economically weak".
Mr Lee, South Korea's richest man, was worth an estimated $8.3 billion as of March 2012, according to Forbes Magazine. He owns less than 4 per cent of Samsung Electronics, but through family stakes in Samsung Everland and Samsung Life he exercises substantial control over the electronics firm and the other 80 or so Samsung companies, which operate in industries from construction to hotels to fashion.
The ownership of hidden assets came into focus in 2011, after a tax probe into Lee that followed the transfer of shares from nominee accounts to his own name. He was later indicted on tax evasion charges but pardoned by South Korean President Lee Myung-bak.
South Korea is no stranger to the family feuds that have engulfed other Asia dynasties such as India's Ambani family. Hyundai Group, once the biggest of the chaebol, split into two after a row between two brothers, one side becoming Hyundai Motor Co and the other Hyundai Group. Before delivering his verdict, the judge said he wished for a happy ending to the family dispute.
"Regardless of the truth of what happened or the final outcome of this case, I think it may also have been one of the late founder's wishes that both parties have a happy life together with no quarrels," the judge said.
Copyright @ Thomson Reuters 2013