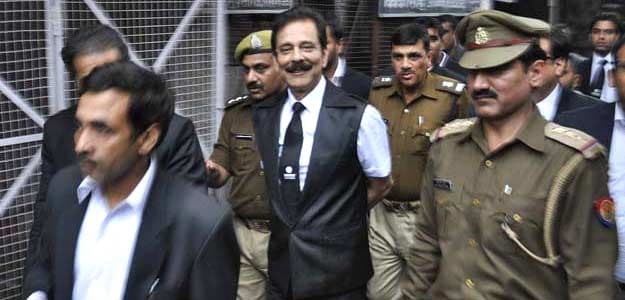 The Sahara group, which owns luxury hotels across the world and some iconic properties in India, may be scouting for buyers for some of its real estate.

The diversified conglomerate on Wednesday appealed to the Supreme Court to release the group's chief Subrata Roy to facilitate negotiations with an international buyer for some of Sahara properties.

Sahara lawyers pleaded that Mr Roy be kept under house arrest as no global buyer would like to do business in a jail. Mr Roy continues to be in judicial custody at Delhi's Tihar Jail even as the group is trying to arrange Rs 5,000 crore upfront cash and another Rs 5,000 crore in bank guarantees to secure his bail.

Here are some of Sahara's well-known real estate assets.
Grosvenor House Hotel, London
Sahara acquired this iconic Central London hotel in 2010 for $720 million. The Grosvenor House opened its doors in 1929 and according to Sahara's website is frequented by royalty, celebrities and business leaders. The hotel has 494 guest rooms and can accommodate a total of over 6,000 people across its meeting spaces, bars, restaurants, ballroom etc. Grosvenor House has an event and meeting space of 60,924 sq ft.

Plaza Hotel, New York
Sahara acquired New York's Plaza Hotel in 2012 for $575 million. Plaza is a landmark structure and overlooks New York's famous Central Park. It first opened its doors to the public in 1907 and has 230 rooms. According to the Sahara website, it was conferred the landmark status by the New York City Landmarks Preservation Commission in 1969 and was designated a National Historic Landmark in 1986.

Dream Hotel, New York
Another international acquisition in 2012 for Sahara was in the form of New York's Dream Hotel, which was bought for $220 million. The hotel boasts of 315 loft-sized rooms and suites and is close to the iconic Empire State Building and Times Square. Before Sahara, the property was owned by the famous India-origin hotelier family of the Chatwals from New York.

Aamby Valley and other townships
According to Sahara's website it has exclusive gated townships in multiple formats in Aamby Valley in Maharashtra spread across 10,600 acres and in 23 other cities including the major metropolises of Mumbai, Delhi, Chennai, Kolkata, Bengaluru and Hyderabad with a total estimated revenue of Rs 15,00,000 crore.
The customer segments are Ultra High Networth Individuals (UHNIs), High Networth Individuals (HNIs) and Non Resident Indians (NRIs), according to its website.


The self-contained townships offer a wide choice of luxury residences like large palatial villas with open spaces, private swimming pool and sundeck, customized designer villas and luxury apartments, it says.
Sahara Star Hotel, Mumbai
Sahara Star is a 5-star hotel located strategically opposite Mumbai's domestic airport. The hotel boasts of a 4,000 sq ft marine aquarium and claims to house the world's only private dining room with marine lives.
It also claims to feature the world's first 'hemispheric' three compound-curved custom designed all glass panoramic elevators rising in the exotic 55,000 sq ft tropical lagoon, a feature it says cannot be found anywhere else.
Along with accrued interest the Supreme Court has determined that Sahara owes Rs 37,000 crore to its small investors.
Sahara has a net worth of $11 billion or around Rs. 66,000 crore ($1=Rs. 60) and more than 36,000 acres of real estate, according to its website. It also co-owns the Sahara Force India Formula One auto racing team with liquor baron Vijay Mallya. Sahara is best known as the former main sponsor of India's national cricket team.