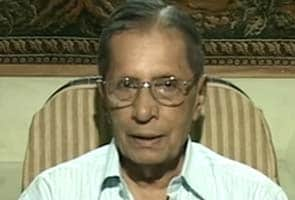 The Indian rupee touched an all-time low of 68.85 in August last year and since then it has recovered to 60 levels. But forex expert AV Rajwade is of the view that rupee should depreciate to 70 per dollar to spur export-driven growth in India. (Watch)
Mr Rajwade says for balancing India's trade deficit, the "fair value" of rupee should be 70 rather than 60.
Unlike its neighbour China and other Asian countries like South Korea, India does not log trade surpluses and relies on capital inflows to balance its export-import deficit. "We don't look at the trade deficit as an output loss, as an employment loss and as a GDP growth loss," Mr Rajwade added.
Although a fall in the rupee's value against dollar will increase India's oil import bill, Mr Rajwade says the impact could be reduced by greater conservation efforts. "One way of conserving is to make something costlier," added Mr Rajwade.
He also says that India should also relook at subsidies on fuel products. "Lot of kerosene is smuggled to Bangladesh. Pakistan has higher prices, Bangladesh has higher prices, their per capita incomes are not better than us....if they can afford it then why can't we?" added Mr Rajwade.
A stronger rupee also encourages corporates to raise capital from overseas as they believe that servicing a dollar debt is cheaper than servicing a rupee debt. Mr Rajwade says India's net external debt as a percentage of GDP which is at 18 per cent of GDP, one of the highest in the world today. "They have grown from 4 per cent to 18 in last five years," added Mr Rajwade.