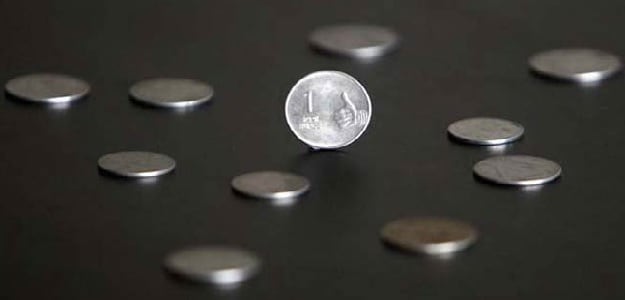 Mumbai
: Extending its gains for a fourth trading day, the rupee on wendesday surged by 17 paise to close at a three-month high of 66.37 per dollar on sustained selling of the American currency by banks and exporters amid firm stock markets.
A weak dollar in overseas market in view of the Federal Reserve's cautious stance on interest rate strengthened the rupee value, a forex dealer said.
The rupee resumed higher at 66.48 per dollar as against last close of 66.54 at the interbank foreign exchange (forex) market here and firmed up further to 66.3175 in day trade.
It closed at 66.37 per dollar, showing a gain of 17 paise or 0.26 per cent. The rupee had last ended at 66.14 per dollar on January 1, 2016.
The local currency has gained by 34 paise or 0.51 per cent in four days to Wednesday.
Meanwhile, the dollar index was down by 0.23 per cent against basket of six currencies in the late afternoon trade.
The dollar weakened against the yen and the euro in late afternoon trade after the Federal Reserve Chair Janet Yellen's cautious stance on interest rate hikes.
Speaking before the Economic Club of New York, the Fed chief said global economic and financial uncertainty justified a slower path of interest-rate increases, remarks that suggested little appetite to raise rates next month.
"Following dovish stance that propelled by Yellen, rupee opened on a positive note and continued to trade positive. Positive cues from domestic equity market added fuel in rupee rally," Pramit Brahmbhatt of Veracity Financial Services said.
Foreign funds (FPP and FIIs) continued their buying spree as they bought shares worth Rs 513.45 crore the previous day, provisional data of stock exchanges showed.
The benchmark BSE Sensex rose 438.12 points or 1.76 per cent to end at 25,338.58.
In forward market, premium for dollar dropped sharply on fresh receivings from exporters.
The benchmark six-month premium for August fell to 178-180 paise from 203.5-205.5 paise the previous day and far forward February 2017 contract also tumbled to 378-380 paise from 406.5-408.5 paise.
The Reserve Bank of India fixed the reference rate for the dollar at 66.4105 and euro at 75.0306.
In cross-currency trades, the rupee dropped further against the pound sterling to finish at 95.63 from 95.03 on Tuesday and also moved down further against the euro to 75.17 per euro from 74.58.
The rupee also fell against the yen to 59.13 per 100 yens from 58.59 previously.