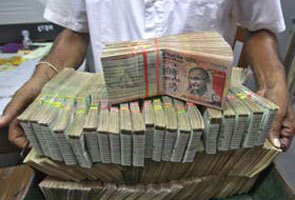 The rupee weakened on Monday as continued dollar buying intervention by the Reserve Bank of India and demand for the greenback from importers offset positive sentiment due to record high domestic shares.

The BSE Sensex surged on Monday to record highs as blue chips continued to rally on hopes of wide-ranging reforms by the new Narendra Modi government.

Inflation will remain a top priority for the government, President Pranab Mukherjee told parliament while finance minister Arun Jaitley said economic growth cannot be compromised at any cost while containing inflation and concentrating on fiscal consolidation.

Foreign fund flows into domestic shares and debt will remain key for the rupee in the near-term, although traders expect the central bank to continue to step in to buy dollars and prevent any excessive appreciation.

"There is good buying seen from state-run banks. The rupee will continue to trade in a tight range," said Vikas Babu Chittiprolu, senior foreign exchange dealer with the state-run Andhra Bank.


Dealers expect the rupee to remain in a broad 58.80 to 59.40 range over this week. The partially convertible rupee closed at 59.20/21 per dollar compared with 59.17/18 on Friday.
Earlier in the day, the rupee rose as high as 58.98, which triggered central bank dollar buying, traders said.
The consumer price inflation data due on Thursday will also be watched, though a large impact on the foreign exchange market is unlikely, dealers said.
In the offshore non-deliverable forwards, the one-month contract was at 59.40 while the three-month was at 59.94.
Copyright: Thomson Reuters 2014