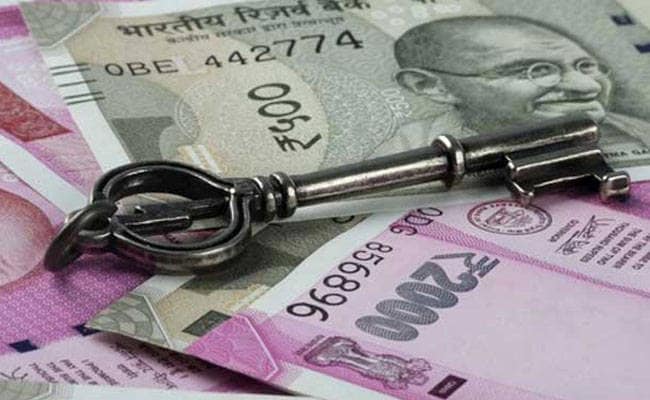 Mumbai:
Amid heightened global uncertainties, the rupee on Wednesday retreated sharply by 21 paise to end at 63.84 against the American currency due to fresh demand for the greenback from importers and banks.
Simmering geopolitical tensions took centre-stage once again following hardening of stand by both the US and North Korea, dampening forex market sentiment.
A modest pick-up in the dollar demand, amid growing conviction that the Fed remains on track to raise interest rates further in 2017, largely put pressure on the local currency.
Domestic bourses too found the going tough and posted the third straight session of losses.
The domestic currency had recovered 17 paise on Tuesday.
The rupee on Wednesday opened lower at 63.78 from overnight close of 63.63 at the interbank foreign exchange (forex) market on intense dollar pressure and also subdued equities.
Amid anxiety among currency speculators and traders, the rupee kept descending and traded substantially weak throughout the day before ending at 63.84, showing a sharp loss of 21 paise, or 0.33 per cent.
The local currency had touched a fresh 2-year high of 63.58 last Friday.
The RBI, meanwhile, fixed the reference rate for the dollar at 63.7491 and for the euro at 74.8606.
Domestic stocks remained under intense selling pressure for the third consecutive session, dragged down by financial and healthcare stocks on the back of escalating tensions on the Korean peninsula amid concerns that market regulator Sebi will continue to clamp down on shell companies.
The dollar index, which measures the greenback's valueagainst a basket of six major currencies, was up 93.51.
In cross-currency trades, the rupee fell back against the pound sterling to finish at 82.93 from 82.88 per pound and also dropped further against the Japanese yen to settle at 58.17 per 100 yens from 57.68 earlier.
It remained firm against the euro to close at 74.93 from 75.16 on Tuesday.
In worldwide trade, the dollar was little changed against other major currencies on Wednesday, as fresh tensions between the US and North Korea dampened market sentiment, while recent upbeat US data continued to support the greenback.
In forward market on Wednesday, premium for dollar continued to rule weak owing to sustained receivings from exporters. The benchmark six-month premium payable in January edged down to 134-135.50 paise from 135.25-137.259 paise and the far forward July 2018 contract also eased to 266.50-268.50 paise from 268.25-270.25 paise.
(Except for the headline, this story has not been edited by NDTV staff and is published from a syndicated feed.)