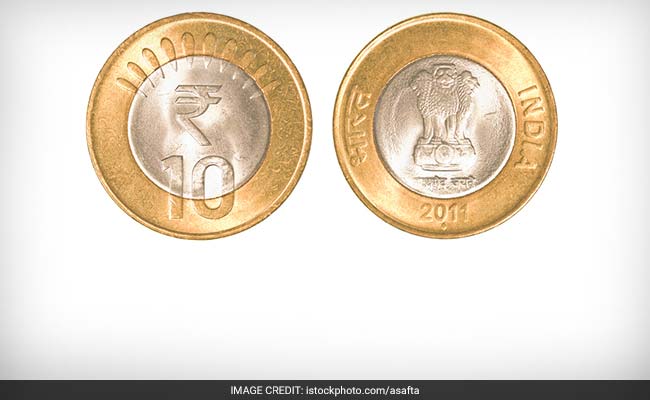 While there is still a section of people who refuse to accept Rs 10 coins believing them to be fake, India's central bank, Reserve Bank of India, set the record straight recently saying that all Rs 10 coins currently under circulation are genuine and legitimate. Not leaving anything for speculation, the banking regulator mentions that this is a total of 14 categories of Rs 10 coins currently in circulation.
Between March 2009 and June 2017, a total of 14 kind of Rs 10 coins were minted across the eight-year period. One might ask as to why did the central bank release a litany of Rs 10 coins, a move that is likely to arouse doubts relating to genuineness of currency. To this, RBI rebuts says that unlike currency notes, the coins have a longer life and hence, coins that are released over a long period continue to stay in circulation simultaneously.

Also Read: RBI Tells Banks To Accept Re 1, Rs. 2, Rs. 5 Coins In Polythene Sachets Of 100 Each
"It is clarified that the Reserve Bank puts into circulation, the coins minted by mints, which are under the Government of India. These coins have distinctive features to reflect various themes of economic, social and cultural values and are introduced from time to time," said RBI in a statement.
Ten Things To Know about Rs 10 Coins
1. There are a total of 14 types of Rs 10 coins issued by the RBI.
2. While explaining the reason for minting a different set of coins, the Reserve Bank of India (RBI) said that since currency coins have longer life, the coins of different designs and shapes circulate in the market at the same time.
3. In the past also, the RBI had issued a statement on November 20, 2016 exhorting the members of the public to continue to accept coins of Rs. 10 denomination as legal tender in all their transactions without any hesitation.
4. In April this year, RBI had released a Rs. 10 coin to commemorate the one hundred twenty five years of National Archives of India. This face of the coin bears the image of National Archives Building in the centre.
5. The Reserve Bank has also advised banks to accept Rs. 10 coins for transactions and exchange at all their branches.
6. In a statement issued on November 20, 2016, the RBI had said that there are two distinct Rs. 10 coins, one with rupee symbol and the another without rupee symbol. Both of them are legal tender and equally good for transactions, though they may look a little different.
7. It has been reported that some less-informed or uninformed persons who suspect the genuineness of such coins are creating doubts in the minds of ordinary people including traders, shop-keepers, etc., impeding the circulation of these coins in certain pockets of the country causing avoidable confusion, RBI said.
8. The Reserve Bank of India (RBI) has also advised people not to give credence to such ill-informed notions and ignore them and continue to accept these coins as legal tender in all their transactions without any hesitation, the statement on November 20, said.
9. The oldest Rs. 10 coin was issued on March 26, 2009. The face of the coin is divided into three portions with two horizontal lines. The centre portion bears the lion capitol of Ashoka pillar with "satyamev jayte" written in Hindi written below.
On the reverse side, Rs. 10 is written in international numerals and in lower periphery, the word "rupee" is written in Hindi and English
10. The most recent Rs 10 coin was releases on June 29, 2017. The coin carries the portrait of Shrimad Rajchandra in the centre. The coin was minted to commemorate the 150th birth anniversary of Shrimad Rajchandra.