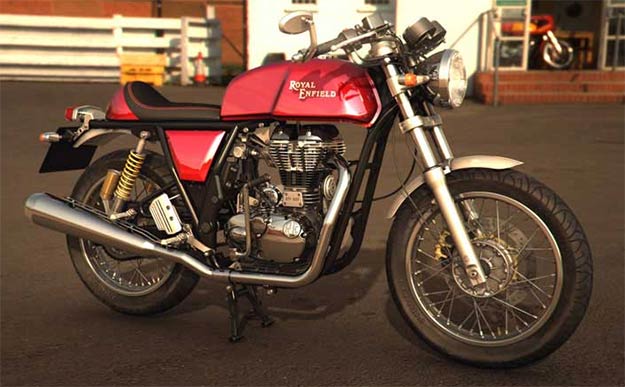 Eicher Motors shares outperformed the broader stock markets in 2013 despite a sharp slowdown in the commercial vehicle market. Shares of the company, which manufactures buses, trucks and motorcycles, surged over 70 per cent last year against a 9 per cent gain in the BSE Sensex.
Analysts have attributed the gains in Eicher Motors to the optimism around the company's motorcycle business. Eicher sold nearly 1.75 lakh Royal Enfield motorcycles in 2013, a 55 per cent jump over 2012 sales of 1.13 lakh units. During the period, the overall two-wheeler industry saw just 4 per cent year-on-year growth in sales.
In fact, Eicher's motorcycle sales have been growing at more than 50 per cent year-over-year for the last three years.
Two brokerages - UBS and Kotak - came out with buy recommendation on Eicher Motors this month. Domestic brokerage Kotak, which initiated its coverage on Eicher Motors recently, said Royal Enfield business is in a "sweet spot."
"We believe volume trajectory will remain strong driven by - expansion of distribution network (the company has presence is restricted to top-60 cities), scale-up of the export business with the launch of Continental GT and uptrading customers to the premium motorcycle segment," the brokerage said.
Based on dealer checks, UBS analysts found that Royal Enfield's different models - Bullet, Classic, Thunderbird and Continental GT - have 3-10 months of waiting period.
Eicher has a lot going on the Continental GT, which it claims is the lightest, fastest and most powerful Royal Enfield in production. The company believes the Continental GT will help it drive into global markets, where it has a meager presence so far.
For the year ended December 31, 2012, Eicher's motorcycle exports were 3,532 units, a mere 3 per cent of its total sales. With the new model, things might change now.
Continental GT is the "first bike that we've developed keeping the world market in mind," Eicher Motors MD and CEO Siddhartha Lal told a newspaper earlier this month. (Read the full story here)
Eicher has started deliveries of the Continental GT in the UK and some other European countries and believes that growth will come from the developing markets.
The mid-sized motorcycle segment in India is in the range of 2 lakh units per annum. Globally, the segment is estimated to be around 8 lakh units per annum. Currently, Eicher is the only Indian company that is focusing on this segment.
"The Continental GT is a truly global product that will strengthen our portfolio as Royal Enfield aims for the position of global leader in the mid-size motorcycle segment," Mr Lal said in November.
UBS has raised its 2014 and 2015 (calendar year) earnings per share (EPS) estimates on Eicher by 8 per cent and 9 per cent respectively, citing higher Royal Enfield volumes. Its target of Rs 6,100 on the stock is over 20 per cent higher than the current market price of Rs 5,000.
Eicher Motor shares closed down 2.1 per cent at Rs 4,920.30 on the BSE as against a 1.22 per cent gain in the broader Sensex. (Track stock)