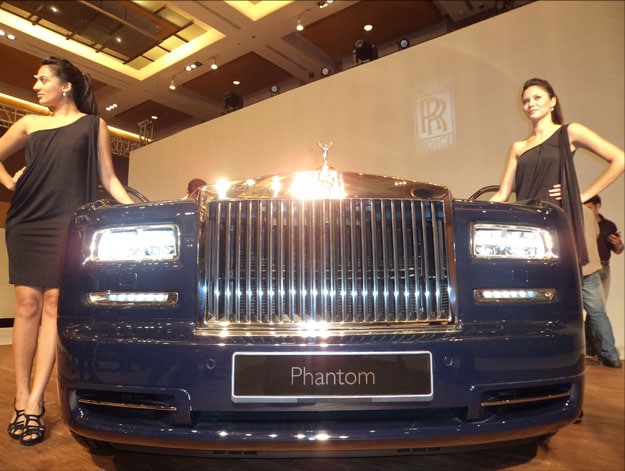 Mumbai:
British luxury car manufacturer Rolls Royce Motor Cars on Friday unveiled the Phantom Series II in India.
The Phantom will be available in four variants—the Phantom, the Phantom Extended Wheelbase, the Phantom Drophead Coupe and the Phantom Coupe, and will cost around Rs 4.5 crore.
This was the very first time that a Rolls-Royce was presented in India.
The Phantom Series II is powered by a hand-assembled 6.75-litre V12 engine which churns out 453 bhp at 5350 rpm. It can accelerate from 0 to 60 mph (0-96 kmph) in about 5.7 seconds.
Among the new features that have been included in the Series II are new LED headlamps, a new grille made out of a single unit of stainless steel and a total redesign of the front and rear bumpers.
The coupe variant will be available in eight-nine months, and will be followed by the convertible, called the Drophead Coupe, said Sharad Kachalia, director, sales and marketing, Navnit Motors, the sole Rolls-Royce dealer in Mumbai.
The vehicle also features BMW's iDrive system. Rolls Royce Motor Cars is a fully-owned subsidiary of BMW.
Rolls-Royce is one of the few manufacturers in the world to feature full-LED light clusters as standard across its Phantom range.
"The suspension has been enhanced for India, which will give additional comfort," Mr Kachalia said.
Mr Kachalia also let NDTV Profit in on a marketing secret, which he called "whisper marketing".
"We send the car to the customer's place without knowing him…take his family for lunch or dinner. This kind of very small gathering of about 5-10 couples…we take them to a dinner place and give them a test ride, show them the car. These activities are quite successful," he said.
The company may announce two more dealerships by the end of the year, said Herfried Hasenoehrl, Rolls-Royce Motor Cars general manager - emerging markets Asia.
"We are currently expanding. Some…we are already at a certain stage. We will announce another expansion soon, closer to Mumbai, closer to Maharashtra, and possibly in Maharashtra as well, and also in the south," he added.
While Mr. Hasenoehrl declined to give sales figures in India, he said "2010-11 saw a massive increase in volume. This was a record year, the best in history. And this year, we expect yet another record. And of course, if you are expecting a record worldwide, each and every market we are represented in, will also have to contribute to that".