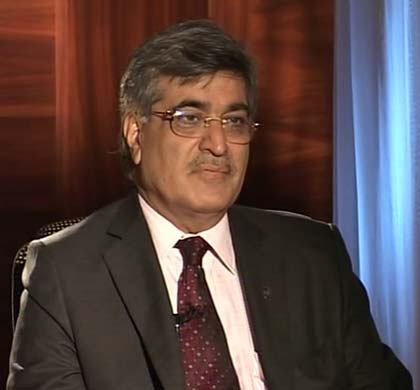 Highlights
In an exclusive interview to NDTV Profit's Vijay Iyer, D.K. Mehrotra, chairman, Life Insurance Corporation of India (LIC) talks about LIC's targets for investments in the equity market this coming year and what sectors are looking attractive to the insura
New Delhi:
Reliance Industries on Friday reported net profit of Rs 4,473 crore, against estimates of Rs4,364 crore for the quarter ended June 2012. That number translated to a 21 per cent fall, making this the third straight quarter that it has seen profits decline. The company had profits of Rs 5,661 crore in the same period last fiscal.

The company posted record quarterly revenue of Rs 94,926 crore, an increase of 13.4 per cent, while analysts had projected an increase of 8.5 per cent at Rs 87927.33 crore,. The corresponding number last fiscal was Rs 81,018 crore. The jump in revenue was helped primarily by a crude throughput of 17.3 million tonnes, and strong gross refining margins.
RIL's gross refining margins, a key source of income for its core business, came in as a surprise, staying at $7.6 a barrel, the same as the previous quarter and much better than estimates of a range of $6.0-7.1/barrel. The GRM also outperformed the Singapore GRM, considered a global benchmark, by almost $1. The GRMs were $10.3/bbl in the corresponding period last year, and had been expected to decline sequentially due to weak product cracks and inventory losses.
Before the earnings were announced, the company's stock had closed at Rs722.65 on the Bombay Stock Exchange, lower by 0.70 per cent, and in line with the 30-stock benchmark Sensex. Since the beginnig of this year, it has also lost its vaunted position as India's most valued company, a title it had held for years. The company's market capitalisation currently stands at Rs 2,36,635 crore.

REFINING AND PETROCHEMICALS

Revenues from refining, RIL's core business, were at Rs 85,383 crore, beating expectations of Rs 73,689 crore by almost Rs 12,000 crore, while the petrochemical business had sales of Rs 21,839 crore against Rs 18,366 crore. However, margins for the petrochemical margins have fallen on an annual basis from 12 per cent to 8 per cent.

The KG-D6 basin, among RIL's crown jewels, produced only 0.9 million barrels of crude oil, and 104.40 BCF of natural gas, lower by 36.7 per cent and 33.1 per cent on a sequential basis. The company said the fall in production was due to reservoir complexity and natural decline. On an annual basis, oil production fell 17 per cent while gas production fell 9 per cent.

Earlier, analysts had said RIL's numbers could be hit by a fall in refining and exploration and prospecting division. RIL itself had struck a note of caution on its output from the KG-D6 basis, until recently of its crown jewels.

Gas output at D6 block, off India's east coast, is projected to decline to 20 million standard cubic metres a day (mscmd) in 2014-15 from 28 mscmd in the current fiscal year. That's less than half the 60 mscmd it was producing in 2010 and well below planned peak capacity of 80 mscmd.

At its annual general meeting earlier this year, RIL chairman Mukesh Ambani admitted disappointment over the D6 block, but remained upbeat in front of shareholders of his Reliance Industries, whose falling stock price has seen it overtaken as India's most valuable.

EPS AND CASH

Earnings per share, a measure of returns to shareholders, increased to Rs 13.7 from the previous quarter. However, it was lower than the Rs17.3 from the same period last fiscal.

Outstanding debt stood at Rs73,213 crore, up from Rs68,259 crore at the end of the previous quarter. However, part of the sharp increase in the debt load was also because of the fact that a large part of RIL's loans are dollar-denominated. The rupee has lost almost 8 per cent value against the US dollar so far this fiscal.

Even as no dividends were declared, cash and cash equivalents stood at Rs 70,732 crore, or $12.7 billion, at the end of the June quarter, marginally lower than the $13.8 billion at the end of March 2012. Analysts and shareholders have expressed concerns about the stockpile of cash -- only marginally less than its total debt -- the company is sitting on and how it plans to use it.

As part of an ongoing buyback programme, RIL spent about Rs2,560 crore to purchase over 35.8 million shares in the June quarter. It also had other income was at Rs 1,904 crore, up from Rs 1,078 crore from the year-ago period, while tax expenses fell to Rs 960 crore from Rs1,603 crore.
RETAIL

Touted as one of RIL's big projects, the six-year old organised retail business, which is yet to turn a profit, performed strongly. Revenues from Reliance Retail, which operates over 1300 stores across 120 cities in India, jumped 42 per cent on an annual basis to Rs 2,269 crore.

Reliance aims to generate Rs 40,000-50,000 crore in sales from its retail business in 3-4 years, Ambani had said at the company's April annual meeting. At the end of fiscal 2012, the retail division had sales of Rs 7,600 crore.
REGULATORY PRESSURES

Lately, the company has also been facing regulatory pressure. Earlier this week, the Oil Ministry asked Reliance Industries to share its records on the KG-D6 oilfield with the Comptroller and Auditor General of India for faster approval of four other blocks off the eastern seaboard of India.

The statement follows a meeting last week at which representatives of Reliance Industries and British oil major BP met with Petroleum Minister S Jaipal Reddy last week to make a representation for speedy approvals for four oil & gas blocks in the Krishna-Godavari (KG-D6) and Cauvery (NEC-25) basins. The CAG is a government watchdog body that keeps an eye on government finances.

The company is also locked in a battle with the government over payments for the KG-D6 basin.