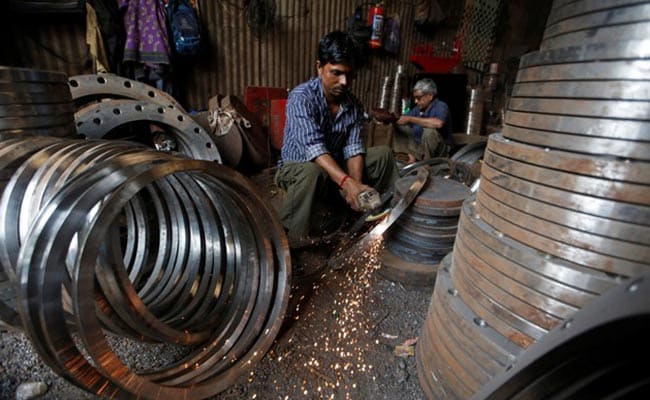 Retail inflation for the month of February cooled off to a four-month low of 4.4 per cent as compared to 5.07 per cent in January 2018, provisional government data showed on Monday. Besides, factory output for the month of January 2018 soared to 7.5 per cent as compared to 3.5 per cent in the corresponding month of 2017, showed data released by the Ministry of Statistics and Program Implementation. While cheaper food articles and lower cost for fuel pushed consumer inflation lower, industrial output spurted due to a good show by manufacturing coupled with higher offtake of consumer and capital goods.
Here are 10 things to know about data on industrial output for January and retail inflation for February:
Retail inflation still remained above the 4 per cent medium-term target of the Reserve Bank of India (RBI), strengthening views that it will hold rates steady at its April meeting rather than raise them, according to a report by news agency Reuters.
"The inflation is still above the RBI comfort level of 4% annual inflation and the combination of higher MSP for farmers and higher crude prices will keep CPI inflation above the 4% mark. That means, any rate cuts for now appear to be ruled out unless inflation shows a clear signal of trending further down. For the trajectory of the CPI inflation going ahead, a lot will depend on the Meteorological forecasts and the actual Kharif output this year," said Jaikishan J Parmar, Research Analyst, Angel Broking.
Data released by the Central Statistics Office (CSO) showed that the rate of price rise in the consumer food segment was lower at 3.26 per cent in February, as against 4.7 per cent in the previous month, according to a report by Press Trust of India.
February is the second straight month in which consumer price index (CPI) inflation eased as January saw annual consumer inflation of 5.1 per cent, off the December figure of 5.2 per cent, which was the highest rate in 17 months.
Inflation in vegetables was 17.57 per cent last month, down from 26.97 per cent in January), and for fruits it was 4.80 per cent (as against 6.24 per cent).
The IIP growth in January this year was mainly on account of an uptick in manufacturing sector which constitutes 77.63 per cent of the index. It grew by 8.7 per cent during the month as compared to 2.5 per cent in January 2017, showing signs of recovery in the economy.
Capital goods, a barometer of investments, showed a sharp increase in output by 14.6 per cent in January, 2018 as against a decline of 0.6 per cent year ago.
Consumer non-durable goods, which are mainly fast moving consumer goods, too showed an increase of 10.5 per cent as against a growth of 9.6 per cent. Consumer durable goods recorded a growth rate of 8 per cent in January 2018 against a contraction of 2 per cent a year ago.
IIP grew at 4.1 per cent in April-January this fiscal as compared to 5 per cent in same period in previous financial year.
"Maintaining growth of around 7 per cent in February and March can lead to average growth of around 4.75 per cent for the full year. This can be a good base for next year when it can be pushed to upwards of 6 per cent if sustained in FY19," said CARE Ratings in a release. (With Agency Inputs)
Get the latest election news, live updates and election schedule for Lok Sabha Elections 2019 on ndtv.com/elections. Like us on Facebook or follow us on Twitter and Instagram for updates from each of the 543 parliamentary seats for the 2019 Indian general elections.