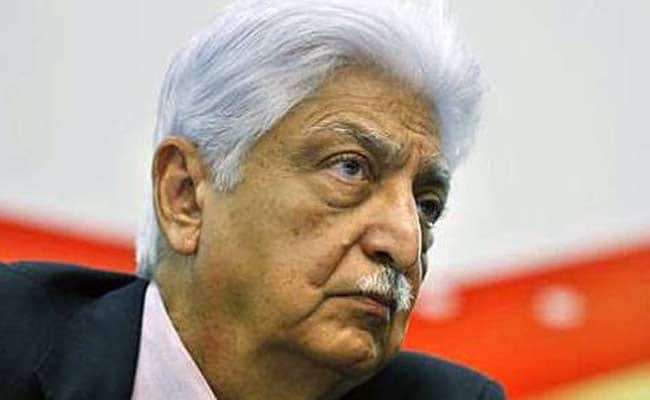 Highlights
Promoters not envisaging sale of their holdings, says Wipro's Azim Premji
No truth to unsubstantiated rumours, adds Wipro chairman
Wipro logged revenues of Rs 14,000 crore in March quarter
Wipro chairman Azim Premji on Monday said the company's promoters are not envisaging sale of their holdings. The IT czar's clarification on the same day a
media report
by CNBC-TV18 stated Wipro promoters were looking to sell their holding in the company. Quoting a banking source, the report said the promoters of Wipro are in the "early stages of evaluating the sale of the company or some of its units and have approached investment banks to arrive at fair value", the report said.
Mr Premji and his family own a 73.25 per cent stake in India's third biggest outsourcer, which clocked revenues of Rs 55,000 crore in 2016-17. In the most recent March quarter, Wipro recorded revenues of Rs 14,000 crore.
"The news article about promoters of Wipro evaluating sale of their holding in the company is baseless and malicious. There is no truth to these unsubstantiated rumors," Mr Premji said in a letter to Wipro's employees.
"I continue to be incredibly excited about the potential of the IT industry and Wipro. I see enormous energy within the company to power the success of our clients and therefore the success of Wipro."
Wipro has a workforce of over 1.75 lakh.
Here is the full text of Mr Premji's letter to Wipro staff:
Dear Wiproites,

Over the past 50 years, I have seen Wipro grow from a small regional player in vegetable oils to a global leader in technology. I continue to be incredibly excited about the potential of the IT industry and Wipro. I see enormous energy within the company to power the success of our clients and therefore the success of Wipro.



I remain as committed to Wipro as I have ever been. The news article about promoters of Wipro evaluating sale of their holding in the company is baseless and malicious. There is no truth to these unsubstantiated rumors.

Azim Premji