Highlights
Jio-GST solution is aimed at helping small retailers to transition to GST
Jio-GST will maintain records, file GST returns and give tax advice
The Rs 1,999 package offers services worth Rs. 10,884+, the firm said
Reliance Jio introduced a GST compliance starter kit for retailers to implement the new taxation system in place from July 1. Called Jio-GST, the software is a mobile first-GST solution available for Rs. 1,999 only, which is aimed at helping small retailers across the country to have a smooth transition to GST. Along with the software subscribers will also get a JioFi device, 24 GB of data per year and unlimited voice along with other helpful tools, the company website said.
Reliance Jio is one of India's GST Suvidha Providers (GSP). GSPs have been setup to enable for the taxpayer to comply with the provisions of the GST law through its web platform –the Goods and Services Tax Network. Jio-GST solution will assist retailers to maintain records, file GST returns and to comply with the provisions of GST law.
The JioGST starter kit comprises of GST filing services,
JioFi
device, an unlimited voice plus data plan,
Jio
billing application and JioGST knowledge series. The total 'market value' for which the company said would amount to Rs 10,884+; however Jio is giving this package for Rs 1,999.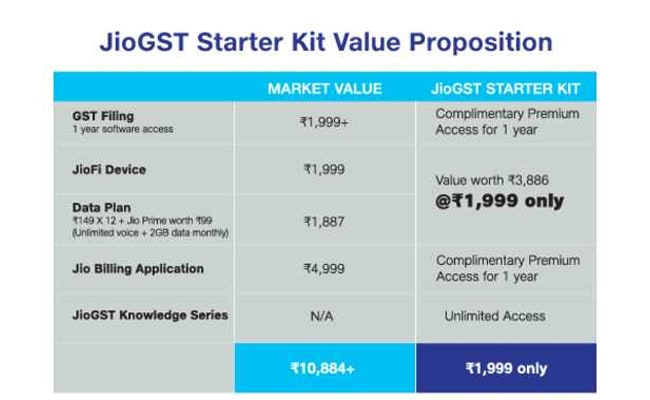 As part of the Rs. 1,999 Jio-GST package the company is offering the following services:


1. JioGST Software Solution for 1 year
2. Unlimited Voice + 24 GB data for 1 year
3. A JioFi device
4. Empanelled Professionals, Billing App and much more
Jio - the telecom arm of billionaire Mukesh Ambani-led conglomerate Reliance Industries has continued to increase its telecom subscriber base steadily to over 108 million by the end of fourth quarter of 2016-17 with active subscriber base of 80 million.
(Except for the headline, this story has not been edited by NDTV staff and is published from a syndicated feed.)