Reliance Jio, the newcomer in the telecom industry, is offering a cashback up to Rs 2,500 to its customers. Jio cashback is valid on a recharge of Rs 399 and above, the company said. This Jio offer worth Rs 2,599, is valid from November 10 to November 25. Jio customers who recharge with Rs 399 and above will also get 100 per cent Jio cashback vouchers worth Rs 400, online shopping vouchers worth Rs 1,899, and cashback on select e-wallets up to Rs 300.
How to avail Reliance Jio Triple Cashback Offer:
Reliance Jio Triple Cashback Offer is valid only on prepaid recharge plans.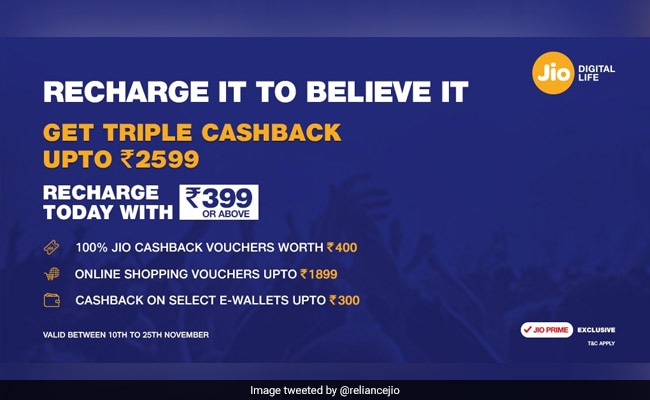 Reliance Jio prepaid recharge comes with several benefits
Cashbacks under the Jio scheme - Reliance Jio Triple Cashback Offer - will be offered in three categories.
Under the first category, Jio is offering eight cashback vouchers worth Rs. 400 (Rs. 50 x 8) provided instantly in mobile app MyJio. These vouchers will be available for redemption from November 15, 2017, Jio said.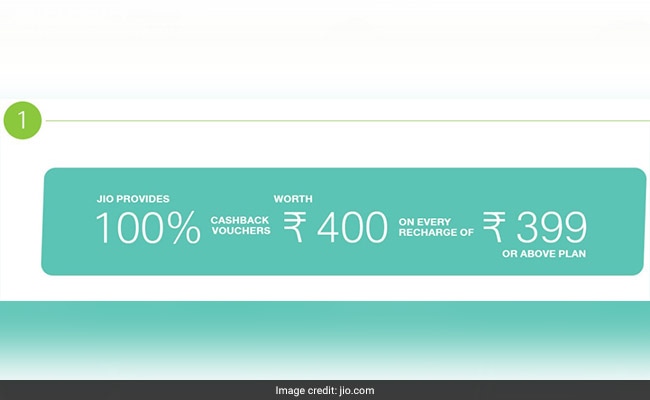 Under the second category, Jio is offering instant cashback up to Rs. 300 through its partner digital wallet services. This cashback will be credited to user wallets instantly and e-commerce vouchers will be available from November 20, 2017, according to the Jio website. Jio's partners include digital payment wallets AmazonPay, AxisPay, FreeCharge, Mobikwik, PayTM and PhonePe.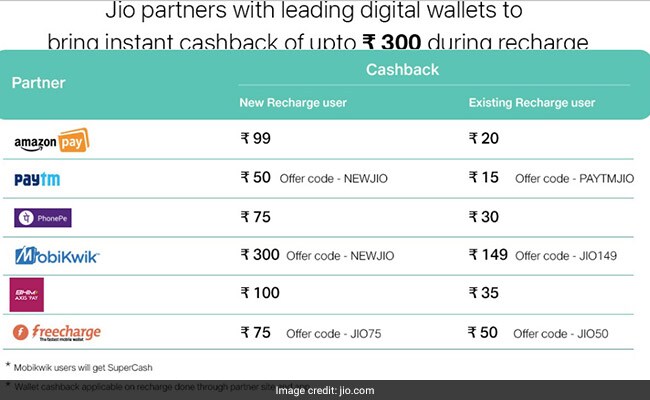 Under the third category, Jio is offering vouchers up to Rs. 1,899 per recharge with its e-commerce partners. This offer includes a Rs. 399 off on apparels at AJio, a Reliance Industries group e-commerce company, on a minimum purchase of Rs. 1,500, according to Jio.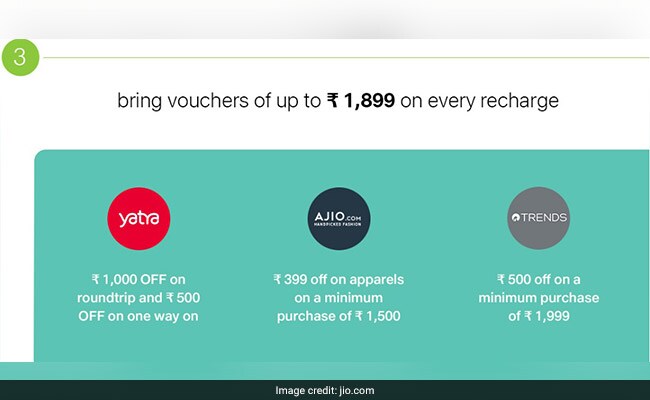 The triple cashback Jio Prime Benefit is a set of exclusive offers announced for Jio Prime members. These offers go beyond the special tariff benefits that are already available to Jio Prime members.
Reliance Jio's cashback via mobile wallets will be available immediately after recharge, according to its website. The Rs. 400 cashback in MyJio will be available from November 15, 2017, while the Rs. 1,899 cashback through e-commerce partners will be redeemable from November 20, 2017, according to the Jio website.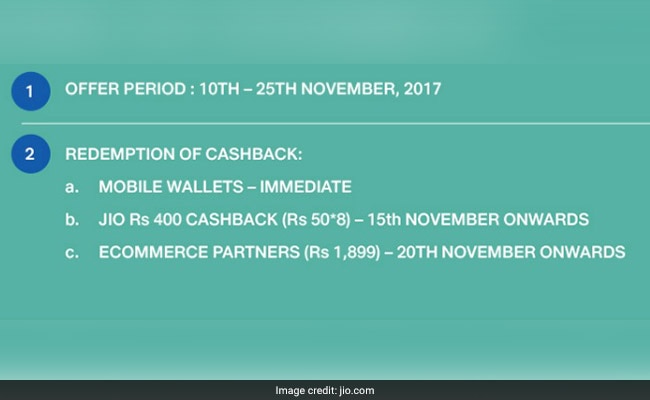 Jio said its Triple Cashback Offer is available exclusively for members of Prime, its paid service.
Jio Prime is a membership for customers who have joined Jio and enrolled for Jio Prime at a one-time annual membership fee of Rs. 99.
Reliance Jio launched its paid Prime service from April 1, 2017. Jio offered voice calls and 4G data services free of cost for the first six months since its commercial launch in September 2016. From April 1, 2017, it started charging its customers - via Prime - for the services enjoyed by them for the past six months.
For the latest News & Live Updates on Election Results from each assembly constituency in Madhya Pradesh, Rajasthan, Mizoram, Chhattisgarh, Telangana, like us on Facebook or follow us on Twitter for updates.