Reliance Jio is offering data worth Rs. 1,999 and unlimited voice calls for free to new customers who buy its WiFi router JioFi. Priced at Rs. 1,999, the JioFi allows multiple users and mobile devices (including 2G/3G smartphones, laptops and tablets) to connect to Jio's 4G internet service and create a personal WiFi hotspot, according to the company's website. Under this offer, you have four options to get the free data worth Rs. 1,999. To avail the offer, a customer needs to buy a JioFi device by paying Rs. 1,999 and subscribe to Jio services by obtaining a Jio SIM card either through the Jio stores, trade partners or from Jio website.

Here are the steps to get this offer from Jio

After you buy a JioFi device by paying Rs. 1,999, get a new SIM from the Jio Store by submitting you KYC proof like Aadhaar card and get Jio Prime Plan activated. You don't have to pay anything extra for the Prime membership.

After Prime Plan gets activated, you have to choose one data plan from four available options below.

Option 1: unlimited voice + 2GB data + 300 SMS every 28 days for 12 recharge cycles
Option 2: unlimited voice + 1GB data/day +100 SMS/day every 28 days for 6 recharge cycles
Option 3: unlimited voice + 2GB data/day +100 SMS/day every 28 days for 4 recharge cycles
Option 4: unlimited voice + 60 GB data +100 SMS/day every 60 days for 2 recharge cycles

Insert the newly activated SIM inside the JioFi device within 24hrs of SIM activation to start enjoying the offer benefits.

Customers can also buy the JioFi device with monthly equated instalments starting as low as Rs. 95.03. Click here for details.


Those who have bought JioFi device earlier and have enjoyed its free data services for months, they may now need to recharge their JioFi device. There are two options to recharge your JioFi device-through MyJio app and on
Jio website
. Other than the website you can also recharge your JioFi through MyJio app.
How to recharge JioFi through MyJio App
1) Open MyJio app and go to the menu. Click on the recharge option in the menu. Select "Recharge for another number". Then choose "Mobile & JioFi" from the drop down menu and enter your JioFi number below and submit.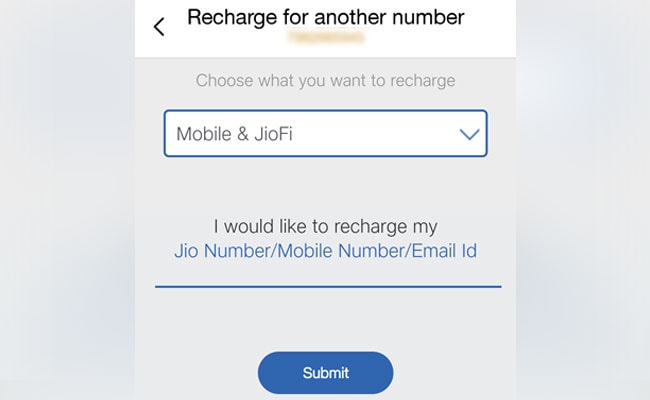 (A screenshot from MyJio App)

2) After you submit, it will show you the available recharge options-monthly, sachet, long-term. Select the recharge pack suitable to you, and click recharge.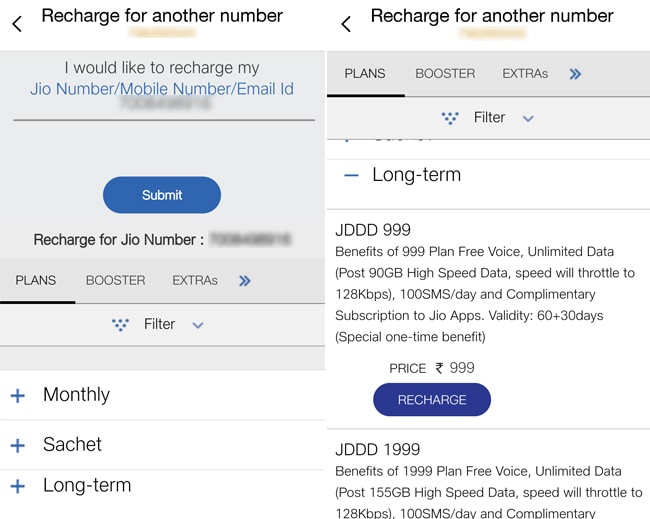 (A screenshot from MyJio App)

3) After you select recharge, it will show you the payment options. Select the payment option suitable to you and do the recharge.

Since the launch of Jio's services last September, Reliance Industries shares have witnessed renewed buying interest. Its shares have surged over 50 per cent since Jio started its services in last September. Analysts believe Jio will be able to breakeven earlier than expected and will add to the bottom line of Reliance Industries, which has invested around $30 billion in the company.
Follow NDTV for latest election news and live coverage of assembly elections 2019 in Maharashtra and Haryana.
Subscribe to our YouTube channel, like us on Facebook or follow us on Twitter and Instagram for latest news and live news updates.