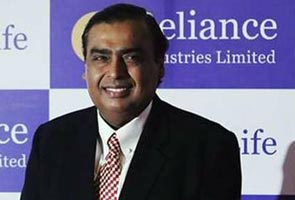 Indore: Reliance Industries chairman Mukesh Ambani on Thursday said his group will complete its Rs 20,000 crore investment programme in Madhya Pradesh by March 2016.
"We are in the midst of a major investment programme in MP which ends in the next 18 months. We are investing cumulatively Rs 20,000 crore... We will then re-engage," he said while addressing the Global Investors' Summit in Indore.
Mr Ambani also indicated that his group will invest similar amounts across sectors like energy and retail, after the present round of investments are completed.
"Our major investment is in coal bed methane which is bringing in energy with technology. We are also investing in retail business," the RIL chief said, adding that the group provides employment opportunities to a large number of people in the state.
He also said India is on a resurgent path to growth "after a long time".
"For me Reliance is more than business, it stands for a commitment to India. We are dedicated to making India and also MP one of the most prosperous and developed areas in the world," said Mr Ambani, the country's richest man.
On building a world class digital infrastructure, he said that 75 per cent work was done and it would be available by mid-2015.
About 65 million people will be connected and Madhya Pradesh can look forward to being the digital capital of India, he added.
"To my mind digitalisation creates more jobs," he said, adding, "Development and progress has be inclusive... it should pull together all sections of society."