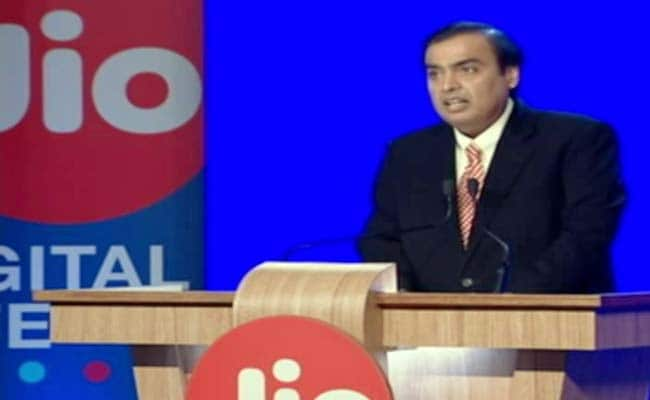 Highlights
Reliance Industries shares surged over 7.5% to an 8-year high
Jio's announcement to charge for its services from April cheered investor
Analysts believe Jio will be able to breakeven faster than estimated
Shares of Reliance Industries today soared over 11 per cent to a hit an eight-year high of Rs 1,211.65. The surge comes a day after Reliance Industries said that its Jio telecom operations will charge customers from April. Analysts say that the move to charge customers puts "positivity" on the stock, which has underperformed the Street for a very long time.

Harish Krishnan, fund manager for equity at Kotak Mutual Fund, told NDTV Profit that the Street was concerned about the amount of money being invested by Reliance Industries into its non-energy business. The move to charge Jio's customers has excited the Street, he added. According to estimates, Reliance Industries has invested $20 billion into its Jio operations. (Read: Jio launches Prime offer, unlimited benefits for 12 more months)

Reliance Industries chairman Mukesh Ambani yesterday said that Jio will charge for its services from April. Customers signing up by the end of March can use unlimited data and free voice services for a year at a rate of Rs 303 per month, Ambani said, though usage of 4G data would be capped at 1 GB per day. He also announced that Jio has amassed 100 million customers in just 170 days of its launch, adding that Jio will double its data capacity soon and its services would cover most of the country's population by the end of the year.

Analysts welcomed Mr Ambani's shift to paid services, saying it would bring more rational competition to the sector. It is positive that Jio will charge customers from April 2017 and monetisation will be faster than expected, global brokerage Credit Suisse said in a note. Another brokerage Morgan Stanley said that Reliance Industries telecom operations is likely to breakeven by end of first year of operations. Meanwhile, Kotak said it remains to be seen how other Jio's competitors respond to the offer.


Domestic brokerage Edelweiss said the Jio offer "will provide significant value for existing 4G customers which should drive meaningful retention" Mr Ambani also announced that Jio will provide 20 per cent higher data than any other plan offered by competition.
Sushil Choksey, director of Indus Equities, said he expects Reliance Industries shares to touch Rs 2,000 in 18 to 24 months.
Reliance Industries Ltd or RIL shares closed 10.96 per cent higher at Rs 1,207.50 on Wednesday compared to 0.36 per cent gain in the broader Sensex.