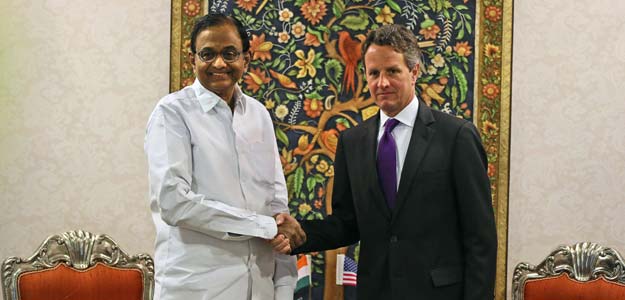 Describing India's recent reforms initiatives as "very promising", US Treasury Secretary Timothy Geithner today said it would have positive outcomes for the country's economy.
"The reforms outlined by the government of India offer a very promising path to improving growth outcomes for the Indian economy," he said at a joint news conference with Finance Minister P Chidambaram.
Geithner said this while replying to a question on India's recent decision to open multi-brand retail to foreign investment. The other recent reforms initiatives of the government include the decision to raise FDI cap in insurance from 26 to 49 per cent and allowing foreign investment in pension.
The reforms, Geithner said, would lay the foundation for improving investments in the economy and ensure that "gains of those growth and investments are shared more broadly by the citizen of India".
Geithner and US Federal Reserve chairman Ben Bernanke are on a two-day visit to participate in the 3rd Cabinet Level Meeting of Indo-US Economic and Financial Partnership. Among others, the meeting was also attended by RBI governor D. Subbarao.
Referring to the joint meetings, Chidambaram said: "This forum has given us a much better opportunity to be able to talk to each other and understand each other. In today's meetings we discussed the global economic and financial developments".
Geithner and Bernanke are scheduled to address business leaders and visit Mumbai tomorrow before leaving for Tokyo to attend the International Monetary Fund and World Bank meetings.