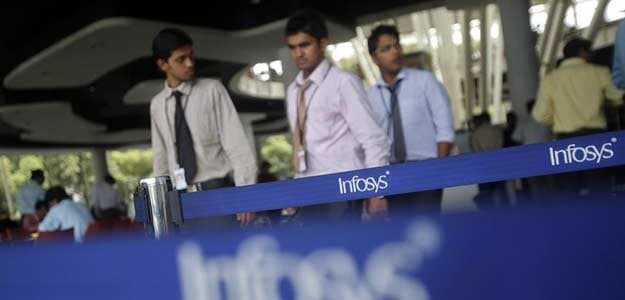 The Indian economy is expected to grow at the fastest pace in many years, but for lakhs of employees in the country's over $100 billion IT sector, the new fiscal year has begun on a sour note with Infosys announcing an average salary hike of just 6.5 per cent. (Read the full story)
India's second largest outsourcer had hiked salaries by 6-7 per cent last year too, but expectations were running high this year as new CEO Vishal Sikka gave back-to-back 100 per cent variable payouts and out-of-turn promotions in a bid to contain a record high attrition.
Infosys, once the first choice of engineering graduates, has seen one in five employees leave the company because of sluggish growth and a spate of senior-level exits. The latest salary hike is unlikely to help retain talent, analysts say.
"Will this make #Infosys a "target company" for all recruiters?," asked Sarang Brahme, a social recruiter on Twitter.
Some suggested that the subdued hike in salaries may be an attempt to get rid of unwanted executives without resorting to layoffs.
Infosys give 6% salary hike for India employees. Hint: Well below inflation rate. Hint 2: Soft downsizing is on.

— Madhavan Narayanan (@madversity) March 27, 2015
Fund managers, who track IT stocks, said salary hikes at Infosys present a sobering reality check about the IT industry. India's frontline IT companies are struggling to deliver double-digit revenue growth and margins are under pressure. Infosys continues to underperform its rivals such as TCS and HCL Tech, despite taking a number of measures over the last year.
Infosys gives lowest ever wage hike.Reflects severe margin pressure- Lack of pricing power,competition Cross currency moves INR stability

— sandip sabharwal (@sandipsabharwal) March 28, 2015
The forthcoming quarterly earnings promises to be no different for outsourcers; TCS, Wipro and HCL Tech have all said that their revenues would be under pressure because of the sharp rise in US dollar. Analysts, therefore, expect other IT firms to announce muted salary hikes to protect their margins.
Ankita Somani of IIFL Research said TCS is likely to hike salaries in the range of 8-10 per cent. Last year, TCS had handed out double-digit salary hikes to its employees. (Watch)
Muted salary hikes are likely to further dent the glamour quotient of an IT job, once associated with big raises and foreign postings. India's biggest IT companies are now struggling to preserve bottomline amid sluggish growth and increased competition, leading to greater disenchantment among employees, analysts say.