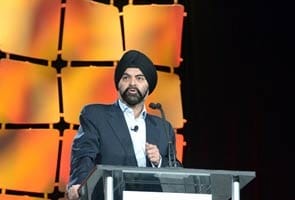 Washington:
The US India Business Council (USIBC) has said it is ready to work with a new government led by BJP leader Narendra Modi to advance the US-India partnership and deepen economic ties.

"USIBC member companies stand ready to roll up their sleeves and get to work with the new government to advance the US-India partnership and deepen bilateral economic ties," Ajay Banga, chairman of USIBC and president and CEO of MasterCard, said on Friday.

"The successful conclusion of the largest elections in history calls for recognition and celebration. On behalf of USIBC's member companies and its Board of Directors, our heartfelt congratulations go out to the people of India and to Narendra Modi and the NDA," he said in a statement.

Mr Banga said the keys to attracting much needed investment are predictability and transparency.

"When these fundamentals are consistently applied, particularly to areas like tax and intellectual property, business will boom for both countries," he said.

"Bilateral trade currently stands at $100 billion. Increasing trade five-fold is achievable if we work together as partners and avoid protectionist tendencies," Mr Banga said.
"We must allow for the free movement of skilled professionals, and lift FDI caps in important sectors like insurance and defines."

Both the US and India have deep pools of entrepreneurial talent and energy, and both countries need to stimulate economic growth and create new jobs, he said, adding this requires a forward-looking partnership between these two great democracies.

Congratulating Mr Modi on his historic victory, former USIBC president Ron Somers offered his services to bring foreign direct investment (FDI) from the United States to India.


"Clearly, the people have voted for change - change from scandal, change from status quo, change for the hope of progress and opportunity. You personify this hope," Mr Somers, who recently resigned as the USIBC president to form his own consultancy group on India-US relationship, wrote in a letter to Mr Modi.
Mr Somers, who had played a key role in India-US civilian nuclear deal, was so confident of Mr Modi's victory that he wrote the letter to May 13 itself and sent it to Mr Modi by Fed Ex so as to ensure that he receives it on the day of his victory.
"I have former India First Group to help guide American investors to India... Please know, I am prepared to dedicate all my efforts to helping build to greatness the India US commercial relationship, realising its full potential," he wrote.
As USIBC president, Mr Somers had met Mr Modi several times in India and had attended the 'Vibrant Gujarat' summits leading high powered delegations to Ahmedabad.
"I can only imagine your sense of accomplishment. The hard work of three terms as Chief Minister and the hundreds of rallies carried out across India will now hopefully allow you some brief respite to reflect on the historic mandate delivered to you by the Indian electorate," he wrote.
Kapil Sharma, head of the Tatas in North America, in a tweet wrote, "Amazing how many leaders have already called Mr Modi to congratulate him."