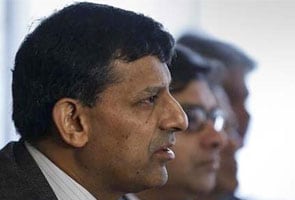 Mumbai
: The Reserve Bank of India (RBI) will re-examine foreign investment limit in government debt, Governor Raghuram Rajan told analysts in a conference call on Wednesday.
He said he expects the allocation available for foreign investors in government bonds to increase as short-term debt matures, but added the central bank would over time "re-examine the limit and see what we can do".
As of Tuesday, 96.6 per cent of India's $25 billion government debt limit for foreign institutional investors was utilised.
The RBI is talking to Euroclear and other organisations to allow trading in Indian government bonds to be settled through their systems, Mr Rajan added.
The apex bank kept its key policy rate (repo) unchanged at 8.0 per cent on Tuesday.
Copyright @ Thomson Reuters 2014