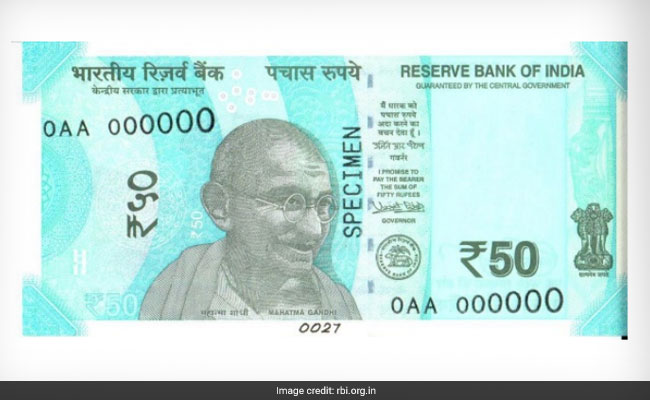 Highlights
The new Rs 50 notes will be in the Mahatma Gandhi (New) Series
It will also have a Swachh Bharat logo with slogan
Previous Rs 50 notes will continue to be legal tender
Just a month after the announcement of new
Rs 20 notes
in the Mahatma Gandhi Series-2005, Reserve Bank of India (RBI) on Friday said that it will also bring new Rs 50 banknotes shortly in circulation. The new Rs 50 notes will be in the Mahatma Gandhi (New) Series, bearing signatures of RBI governor Urjit R Patel, the central bank said in a press release. With "Fluorescent Blue" as the base colour, the new note "has motif of Hampi with Chariot on the reverse," it added.
Apart from the colour, the new Rs 50 note has different designs and geometric patterns aligning with the overall scheme, both at the obverse and reverse, the Reserve bank further stated.
Here are the five features of the new Rs 50 note:
1.
The new Rs 50 note will be in a dimension of 66 mm x 135 mm.
2.
It will have a see through register with denominational numeral 50 on the front side of the note which means that the small design printed both on the front (hollow) and back (filled up) of the note in the middle of the vertical band next to the watermark, will have an accurate back-to-back registration. The design will appear as one when seen against the light.
3.
On the front side, denominational numeral 50 will also be written in Devnagari along with a portrait of Mahatma Gandhi at the centre.
4.
The Ashoka Pillar emblem will be printed on the front-right side. The guarantee clause, Governor's signature with a promise clause and the RBI emblem will feature towards the right of Mahatma Gandhi's portrait.
5.
The year of printing would be mentioned on the back-left of the note and it will also have a Swachh Bharat logo with slogan.
All the banknotes in the denomination of Rs 50 in the earlier series will continue to be legal tender. RBI is also expected to introduce new
Rs 200 notes
in the coming months to ease pressure on lower-denomination currencies that are in short supply. Minister of State for Finance Santosh Kumar Gangwar said that the Rs 200 note, printing of which had already begun, would be in circulation soon, news agency IANS reported.