Highlights
RBI delivered a 25-basis-point rate cut on Wednesday
Monetary policy can do only so much for the economy, says an expert
Analysts looking forward to more reform initiatives from the government
After months of government pressure to cut interest rates, central bank RBI delivered on Wednesday, putting the onus back on Prime Minister Narendra Modi to spur growth.
The Reserve Bank of India lowered its benchmark repurchase rate to 6 percent from 6.25 percent, as widely expected, and called on local administrations to speed up projects because there's "an urgent need" to boost private investment. Given that PM Modi's party the BJP controls 18 of the country's 29 states after a surprise political maneuver last week, focus is now on the government to push through complicated labor and land reforms.
"Monetary policy can do only so much for the economy," said Sujan Hajra, chief economist at Anand Rathi Financial Services Ltd. in Mumbai. "The bigger chunk of providing stimulus lies with the government."
Here's PM Modi's dilemma: India's economy is chugging along at a world-beating pace but underlying slack at factories and anemic loan growth could slow expansion before he faces reelection in 2019. His government has limited room to increase spending because it runs a bloated deficit, and scope for monetary easing may close when the Federal Reserve starts reducing its balance sheet.
That means he needs to rally his state allies -- representing 60 percent of gross domestic product -- to make it easier for companies to acquire land and hire and fire workers.
A clutch of data released by the RBI late Wednesday shows how urgent it is to get the policy mix right. Factories were running at about 74 percent of capacity October-December, business sentiment in manufacturing worsened April-June, consumer confidence dipped into the "pessimistic zone" in June, and more households expect prices to rise over the next three months after a record-low 1.5 percent reading in June.
Just like other central banks, the RBI too was caught out with inflation coming in much lower than its forecast. It projects 2 percent to 3.5 percent April-September and 3.5 percent to 4.5 percent over the next six months, but said "a conclusive segregation of transitory and structural factors driving the disinflation is still elusive."
The June reading seemed to have rattled the government, with PM Modi's top economic adviser Arvind Subramanian calling on policy makers to take a long hard look at a raft of soft data. The government on Wednesday welcomed the rate reduction.
"We welcome the 25 basis points cut in the repo rate as an important step necessary to converge towards the appropriate real monetary conditions for sustained growth consistent with India's potential and for stable, moderate inflation," Economic Affairs Secretary Subhash Chandra Garg said in a statement.
Skeptical Economists
Private economists aren't so sure.
"The 25 basis point cut doesn't help revive private investment," said N.R. Bhanumurthy, economist and professor at the National Institute of Public Finance and Policy in New Delhi. "There's a misplaced faith in interest rate cuts."
Indranil Pan, an economist at IDFC Bank Ltd. in Mumbai, doesn't think the RBI's rate reduction will kickstart lending. In a note to clients titled the "last hurrah," he said there's no room for more cuts through March 2018 and bond yields have bottomed out and will stay between 6.4 percent and 6.75 percent during the period. The yield on the benchmark sovereign notes maturing in May 2027 closed at 6.46 percent in Mumbai on Wednesday.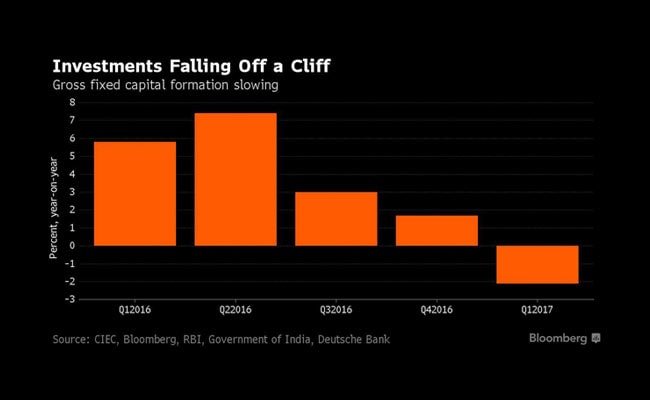 The skepticism stems from the fact that Indian companies, saddled with debt, are putting off investments to make their balance sheets stronger. Loan growth has been hovering near record lows. The stress in the corporate sector is being mirrored in the banking sector, which is grappling with a $191 billion stressed asset problem.
"While the outlook for agriculture appears robust, underlying growth impulses in industry and services are weakening, given corporate deleveraging and the retrenchment of investment demand," the central bank said in its statement.
Moreover, the roll out of a nationwide goods and services tax has disrupted supply chains across the country. A private gauge published Tuesday indicated that manufacturing output contracted in July, with the index sliding to the lowest since the 2008/09 financial crisis. Meanwhile the budget deficit is at 81 percent of the full-year target in the first six months, compared with 61 percent a year earlier.
"Monetary easing does not seem to be having any material impact on private investment, the momentum of which has deteriorated steadily," said Kaushik Das, chief India economist at Deutsche Bank AG in Mumbai.
(Except for the headline, this story has not been edited by NDTV staff and is published from a syndicated feed.)
Get Breaking news, live coverage, and Latest News from India and around the world on NDTV.com. Catch all the Live TV action on NDTV 24x7 and NDTV India. Like us on Facebook or follow us on Twitter and Instagram for latest news and live news updates.