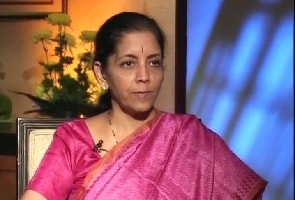 New Delhi
: The Reserve Bank of India's move to cut interest rates by 25 basis points, or 0.25 per cent, signals the beginning of a low interest rate regime, Commerce and Industry Minister Nirmala Sitharaman said on Thursday.
"(The) RBI's rate cut signals the beginning of a low interest regime and is highly encouraging for industry and economy," Ms Sitharaman said in a Twitter post, published by her ministry.
Earlier, acting ahead of a scheduled monetary policy meeting on February 3 and the federal annual budget statement late next month, the RBI surprised markets by lowering the repo rate - its key lending rate - to 7.75 per cent from 8.0 per cent, where it had been for the past year.
Copyright @ Thomson Reuters 2015