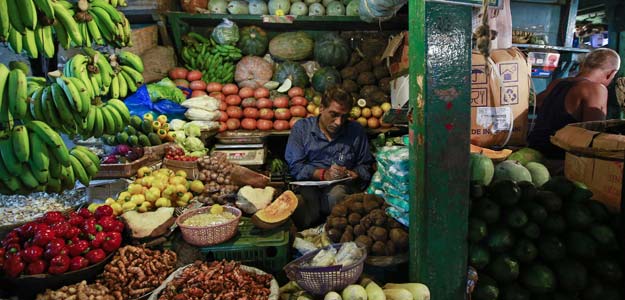 Bengaluru
: The Reserve Bank of India (RBI) is expected to leave its key interest rate steady at 6.75 per cent next week and only make one cut this year as rising inflation ties its hands, according to a Reuters poll.
That marks a turn from rapidly cooling domestic consumer price inflation, which allowed the RBI to lower the repo rate four times in 2015.
Its last 50-basis-point cut in September took markets by surprise, but the RBI isn't likely to act as aggressively in 2016, as a renewed uptick in food-costs-driven inflation puts the central bank's medium-term price target at risk.
This week's poll of nearly 40 economists showed only one 25 basis-point rate cut this calendar year, between April and June, unchanged from earlier expectations.
The RBI wants annual inflation at 5 per cent by March 2017 but December was the fifth straight month inflation ticked up, with the rate rising to 5.61 per cent.
"Inflation is likely to accelerate further," said Shilan Shah, economist at Capital Economics.
"Continued delays to the sowing of the rabi (winter) crop this season amid unusually warm temperatures are likely to push up food inflation over the coming months."
Economists polled earlier this month agreed. They forecast price rises would average 5.0 per cent in 2015/2016 and 5.3 per cent in 2016/17.
"The RBI faces a challenge meeting its medium-term inflation targets, suggesting that the window for further easing has closed," said Shah.
But the country's economic growth has not been as robust as expected and could pressure the RBI to ease policy.
The government revised down its growth target for the current fiscal year to 7-7.5 per cent and said it was unlikely to be significantly greater the following year.
New Delhi is considering measures such as raising the wages of government employees by nearly 25 per cent and revising budget deficit targets to stimulate demand, both of which could drive inflation further beyond the RBI's target.
There are also hopes parliament will deliver on long-promised and much-delayed economic reforms to boost growth, including amending the Land Acquisition Bill and introducing a Goods and Services Tax.
© Thomson Reuters 2016