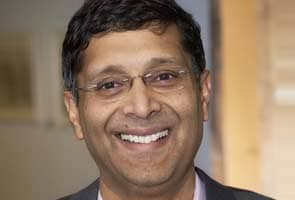 New Delhi: The inter-meeting rate cut by the Reserve Bank of India (RBI) indicates a shift in its monetary policy stance, the finance ministry's chief economic adviser Arvind Subramanian said on Thursday.
The RBI cut interest rates on Thursday by 25 basis points to 7.75 per cent in a surprise inter-meeting cut, yielding to signs of slowing inflation, while acknowledging government efforts to contain the fiscal deficit.
"It will provide some fillip to the economy both directly and indirectly," Subramanian told to a business television channels.
"It does signal a shift in the underlying (monetary) stance going forward."
Helped by plunging global oil prices, India's wholesale price index for December rose just 0.11 per cent year-on-year, after staying flat in November, according to data released on Wednesday. A Reuters poll of economists had forecast a 0.6 per cent rise.
Retail inflation, meanwhile, rose to 5 per cent in December -- below the 5.4 per cent annual rise predicted by analysts in a Reuters poll. The RBI is targeting retail inflation of 6.0 per cent by January next year.
Subramanian, a former US-based economist who joined the finance ministry in October, said lower oil prices, weak demand and slowing rural wages are expected to keep inflation in check, opening up a window for more rate cuts.
"We can expect strong disinflation going forward," he said. "Therefore, that will create the room for possibly more monetary policy easing."
Copyright: Thomson Reuters 2015