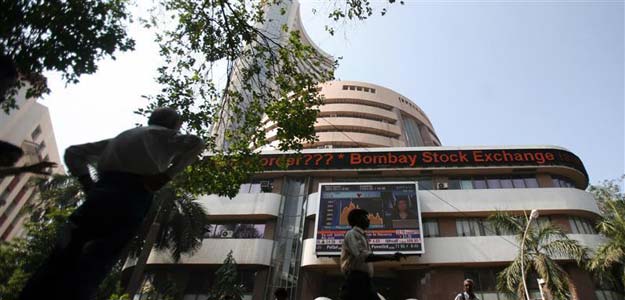 Mumbai:
Beaten-down shares rose more than 1 per cent on Wednesday in a volatile session, led by gains in financial stocks after soft inflation and industrial output data stoked hopes of an interest rate cut.
Gains were also supported by buying related to inclusion of some shares in MSCI India.
Indian stocks have fallen more than 10 per cent from record high hit in March, with overseas investors selling nearly $2.2 billion worth of cash shares in the last 16 sessions, excludingJapan's Daiichi Sankyo's block sale of Sun Pharmaceutical Industries shares.
India's retail inflation cooled to a four-month low in April on slower annual increases in food costs and industrial output growth slipped to a five-month low in March, boosting odds for an interest rate cut by the central bank next month.
However, sentiment remains mixed amid delay in key land and tax reforms and as HSBC downgraded Indian shares to "underweight," saying markets were overbought at a time when earnings were expected to slow and the scope of interest rate cuts were diminishing.
"It's unlikely that shares would see a deep correction from current levels, but delay in key reforms are still weighing on sentiment," said Taher Badshah, senior vice president & co-head Equities at Motilal Oswal AMC.
India VIX, a gauge of expected volatility in Indian shares, surprisingly rose alongside shares, to as high as 21.4, its highest since Feb. 25 with no major event in sight.
The Nifty closed 108 points higher at 8,235 and the Sensex advanced 374 points to end at 27,251.
Financial shares led the gains. NSE's benchmark for bank shares, Bank Nifty rose as much as 2.6 per cent, heading towards its biggest daily gain since March 2, 2015.
Axis Bank rose 5.9 per cent while Yes Bank advanced 2.8 per cent.
Among those included in MSCI India index, Bharat Forge rose 2.2 per cent and Shree Cement surged 9.4 per cent.
© Thomson Reuters 2015