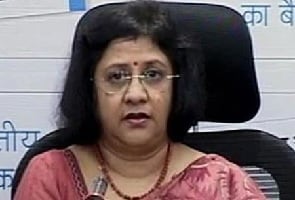 New Delhi
: Welcoming the Reserve Bank of India's decision to cut rates, top lenders State Bank of India (SBI) and ICICI Bank on Thursday said the much-awaited lowering of lending and deposit rates would "definitely" take place now.
While refraining from giving any specific timeline for such rate cuts by the banks, they said the way forward was certainly going to be a review of the rate cycles.
"Definitely, I think those cuts will happen that we have been talking for a while for easing of the rate cycle," ICICI Bank CEO Chanda Kochhar said when asked whether the lending and deposit rates would come down now.
Earlier in the day, the RBI decided to cut policy rate by 0.25 per cent to 7.75 per cent.
Reacting to the rate cut, SBI chairperson Arundhati Bhattacharya said it was very difficult to talk about the timing of reduction in interest rate by her bank as of now, adding, "We can expect cutting lending rates in the coming days."
Ms Kochhar said that the decision by banks to lower the rates would be taken by their Asset-Liability Committees after looking into their own cost of funds, but that the direction was clearly towards reduction in the interest rates.
"In the deposit rates, we had already started factoring from as early as october as all indicators were forward looking indicators and were indicating that inflationary expectations were coming down sharply."
"I think that has probably played out the way we had envisaged that it would, and the way forward would be reviewing of rate cycle," she added.
Welcoming the RBI decision, Ms Bhattacharya said, "We believe that this cut may be just the beginning of a rate easing cycle."
Bank of Maharashtra chairman S Munhot also said many banks would now look at easing interest rates.