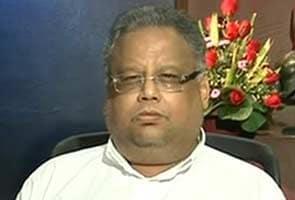 Mumbai:
Ace investor Rakesh Jhunjhunwala on Tuesday purchased a nearly 2 per cent stake in Multi Commodity Exchange (MCX) for over Rs 66 crore, as its erstwhile promoter Financial Technologies India Ltd (FTIL) diluted its holding from 26 per cent to 24 per cent.
According to information available with the bourses, MCX's erstwhile promoter FTIL has sold a total of 10.19 lakh shares, amounting to a 2 per cent stake in the commodity bourse.
Mr Jhunjhunwala picked up 10 lakh shares in MCX at an average price of Rs 664 apiece, valuing the transaction at Rs 66.4 crore, data showed.
The transactions took place at a time when parleys are being held on for sale of 24 per cent stake by Jignesh Shah-promoted FTIL in MCX and the interested bidders include Kotak Group and Reliance Capital.
However, the stake sale had earlier hit a roadblock after bidders claimed that they have not given access to 'special audits' of MCX.
With this stake sale, FTIL's holding in MCX will come down to 24 per cent.
In December, commodity markets regulator FMC had declared FTIL as unfit to run any exchange after a Rs 5,600 crore payment crisis at group company National Spot Exchange Ltd (NSEL).
The regulator asked FTIL to reduce its stake in MCX to 2 per cent from 26 per cent.
Shares in MCX, on Tuesday, ended at Rs 679.70 apiece on the BSE, up 4.18 per cent from the previous close.