With an aim to improve train passenger experience on its premium
Rajdhani and Shatabdi trains
, Indian Railways has decided to upgrade its trains. Under 'Project Swarna', 14 Rajdhani and 15 Shatabdi trains will be upgraded with "improved passenger amenities, aesthetics and hygiene standards", the Ministry of Railways said in a press release dated November 29, 2017. On that day, the Railways launched its first upgraded Rajdhani train with 'Swarna' coaches, termed Swarna Rajdhani, from New Delhi to Sealdah. An expenditure of about Rs 35 lakh has gone into this rake which translates into less than Rs 2 lakh per coach, it added. Indian Railways, the provider of rail transport across the country, had previously launched an upgraded Shatabdi Express between New Delhi and Kathgodam under Project Swarna, it noted.
Here are five things to know about the new, upgraded Rajdhani and Shatabdi Express trains:
1. Under Project Swarna, improved passenger experience on Rajdhani and Shatabdi trains has been planned in 10 dimensions, according to the railways ministry. These are coach interiors, toilets, onboard cleanliness, catering, linen, staff behaviour, security, onboard entertainment and real time feedback.
2. 14 Rajdhani trains and 15 Shatabdi trains have been selected for the first phase of this Project, the ministry said.
3. For Project Swarna, the railways ministry has formed nine teams, each comprising two Railway Board officers, to monitor the progress of work.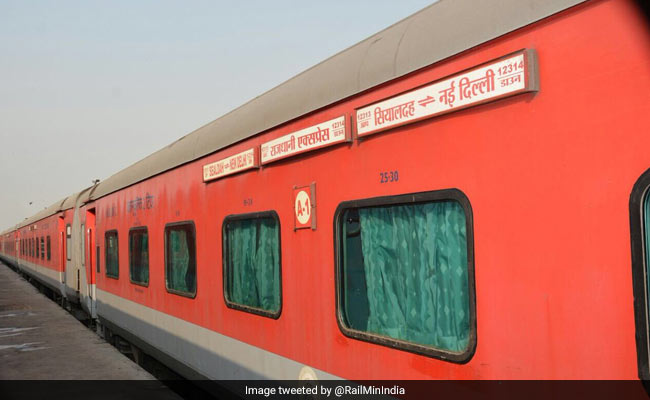 4. The first revamped rake of Rajdhani under Project Swarna launched on the New Delhi-Sealdah route included LED lighting, night signage for easy identifications of berth numbers, CCTV cameras in doorway area and aisles, auto janitor systems in toilets and stainless steel wash basins with improved soap dispensers.
5. For First AC passengers, the upgraded Rajdhani train included blanket covers of two different colours and built in ladders for easy access to upper berth, according to the press release.
Here's the list of 29 Rajdhani and Shatabdi trains to be upgraded under Project Swarna:

Rajdhani Trains covered under Project Swarna:
| | | |
| --- | --- | --- |
| Train No. | From | To |
| 22811/12 | Bhubaneshwar | New Delhi |
| 22823/24 | Bhubaneshwar | New Delhi |
| 12309/10 | Rajendra Nagar | New Delhi |
| 12301/02 | Howrah | New Delhi |
| 12305/06 | Howrah | New Delhi |
| 12313/14 | Sealdah | New Delhi |
| 12439/40 | Ranchi | New Delhi |
| 12441/42 | New Delhi | Bilaspur |
| 12453/54 | New Delhi | Ranchi |
| 22691/92 | Bangalore | H.Nizamuddin |
| 22693/94 | Nizamuddin | Bangalore |
| 12951/52 | Mumbai (BCT) | New Delhi |
| 12953/54 | Mumbai (BCT) | H.Nizamuddin |
| 12957/58 | Ahmedabad | New Delhi |
Shatabdi Trains covered under Project Swarna:
Train No.
From
To
12025/26
Pune
Secundrabad
12277/78
Howrah
Puri
12019/20
Howrah
Ranchi
12033/34
Kanpur
New Delhi
12041/42
Howrah
New Jalpaiguri
12085/86
Guwahati
Dibrugarh/
12087/88
Naharlagun
12039/40
New Delhi
Kathgodam
12045/46
New Delhi
Chandigarh
12047/48
New Delhi
Firozpur
12049/50
New Delhi
Agra
12035/36
Jaipur
Agra
12007/08
Chennai
Mysore
12243/44
Chennai
Coimbatore
12027/28
Bangalore
Chennai
12009/10
Mumbai(BCT)
Ahmedabad
(For PNR status, train running status/enquiry, check out railbeeps.com, NDTV's brand-new train travel site)