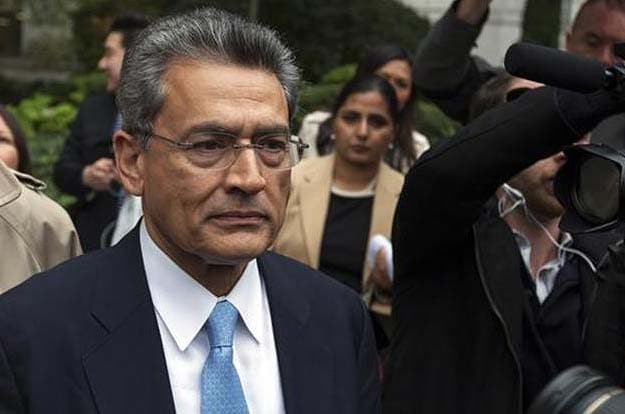 New York: India-born former Goldman Sachs director Rajat Gupta is resorting to fresh legal recourse to appeal denial by a US judge of his bid to overturn his two- year sentence and conviction on insider trading charges.

In a memorandum submitted in the US District Court in Manhattan on Friday, Gupta is seeking a "certificate of appealability" that will enable him to appeal the ruling made by US District Judge Jed Rakoff on July 2.

Rakoff had disagreed with Gupta's claim that there was "insufficient" evidence of him receiving "personal benefits" in exchange for the insider tips he allegedly passed on to now-jailed billionaire hedge fund founder Raj Rajaratnam.

"On July 2, 2015, the Court denied Gupta's motion for relief, concluding that he had procedurally forfeited his claim by failing to raise it on direct appeal.

"To appeal this denial, Gupta is required to obtain a certificate of appealability, which should issue if he has 'made a substantial showing of the denial of a constitutional right'," Gupta's lawyers said in the memorandum.

Rakoff had said Gupta's argument that the evidence of personal benefit presented at trial was insufficient to sustain his conviction is "both too late and too little."

Gupta, 66, was convicted in 2012 of passing confidential boardroom information to Rajaratnam.

He appealed his conviction on various grounds, but the US federal Court of Appeals and even the Supreme Court rejected his arguments and affirmed the conviction. Gupta is currently serving a two year prison term in a federal prison in Ayer, Massachusetts and is scheduled to be released in March 2016.


In his new appeal, Gupta had cited the Appeals Court's recent decision in which it reversed the insider convictions of hedge-fund managers Todd Newman and Anthony Chiasson.
In the ruling, the court had ruled that for an insider trading conviction prosecutors must show that a defendant received a personal benefit for passing illegal tips.
Gupta is seeking to vacate his sentence and the judgment against him on the basis of an argument that the trial court's instruction to the jury concerning the "personal benefit" element of an insider trading violation was "erroneous" and there was insufficient evidence of such benefit.
In the memorandum, Gupta's lawyers said "in addition to having asserted a fairly debatable claim on 'cause and prejudice', he has made a substantial (certainly debatable) showing that, in light of Newman, he is actually innocent because of the tenuous connection between the government's evidence of benefit and the tips of which he was convicted."
The lawyers requested the federal court to issue the certificate of appealability on three issues including whether Gupta's "conviction should be vacated because the jury in his case was erroneously instructed on the benefit element of his alleged insider trading offenses, thereby permitting the jury to convict defendant of conduct that is not a crime.
The other issue is whether Gupta satisfied the "cause and prejudice" standard so as to excuse his failure to raise this issue on direct appeal and whether he satisfied the "actual innocence" standard.