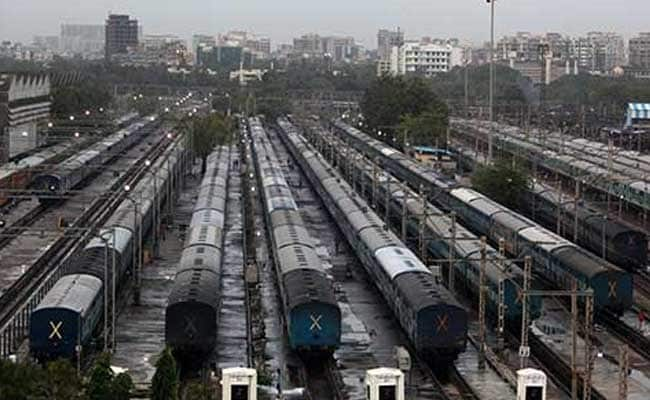 Indian Railways arm Northern Railway has announced four Holi special trains. The Northern Railway - which caters to one of the zones served by the Railways - said it will operate the Holi special trains "to clear extra rush of passengers during Holi Festival". The Holi festival is on March 2 this year. The additional trains will be run across Delhi, UP, Mumbai, Jammu, Jharkhand and West Bengal. The four Holi special trains services include
Ramnagar-Howrah
,
Gorakhpur-Mumbai
,
Ranchi-Anand Vihar
and
Mumbai-Jammu
. The Central Railway - another arm of the Indian Railways - has announced eight weekly trains between
Lokmanya Tilak Terminus (Mumbai) to Barauni (Bihar)
on special charges.
Here are 10 things to know about the Holi special trains
:
1. The Railways operates additional trains from time to time around periods marked with high demand from passengers.
2. Of the four trains announced, the Gorakhpur-Mumbai-Gorakhpur, Ranchi-Anand Vihar Terminal-Ranchi and Ramnagar-Howrah-Ramnagar will be operated on a weekly basis, according to the Northern Railway.
3. Train No. 05007/05008 will be run between Ramnagar and Howrah, 02597/02598 between Gorakhpur and Mumbai, 08617/08618 between Ranchi and Anand Vihar, and train No. 02071/02072 between Mumbai and Jammu, it said in a press release dated February 13.
4. The Ramnagar-Howrah, Mumbai-Jammu Tawi and Ranchi-Anand Vihar Holi special trains will be operated with AC 2 Tier/3 Tier coaches, among others. The Ramnagar-Howrah Holi special will include six sleeper class coaches, according to the press release. The Gorakhpur-Mumbai Holi special will comprise sixteen general class coaches. The Mumbai-Jammu Tawi-Mumbai Holi special service will comprise AC superfast trains.
5. The weekly Holi special train service will depart from Ramnagar to Howrah at 6:15 p.m on four Fridays (from February 16 to March 9). In the return direction, the Howrah-Ramnagar weekly special will depart from Howrah at 8:35 am on four Sundays (from February 18 to March 11).
6. From Gorakhpur to Mumbai, the Holi special train will depart at 8:25 am on four Saturdays (from February 17 to March 10). From Mumbai to Gorakhpur, the Holi special train will depart from Mumbai at 2.20 pm on four Sundays (from February 18 to March 11).
7. The special train will depart at 1:55 pm from Ranchi to Anand Vihar "every Saturday from 11.02.2018 to 10.03.2018 at 02:05 pm", the press release noted. The train from Anand Vihar Terminal to Ranchi will depart at 10:50 pm every Sunday from February 18 to March 11.
8. The Mumbai-Jammu Tawi-Mumbai AC superfast special train will depart from Mumbai at 6:45 am on March 2. It will depart from Jammu Tawi to Mumbai at 7:25 am on March 4.
9. The Lokmanya Tilak Terminus-Barauni Holi special train will leave Lokmanya Tilak Terminus at 2:20 pm on four Thursdays from March 8 to March 29. On the return journey, the train will will depart from Barauni at 5:15 pm on four Tuesdays from March 6 to March 27, according to a press release dated by February 14 by the Central Railway.
10. In Budget 2018, Railways' capital expenditure has been pegged at Rs. 1,48,528 crore for financial year 2018-19. "Strengthening the railway network and enhancing Railways' carrying capacity has been a major focus of the Government... A large part of the Capex is devoted to capacity creation. 18,000 kilometers of doubling, third and fourth line works and 5000 kilometers of gauge conversion would eliminate capacity constraints and transform almost entire network into Broad Gauge,"
Finance Minister Arun Jaitley
had said while unveiling the Budget for 2018-19.