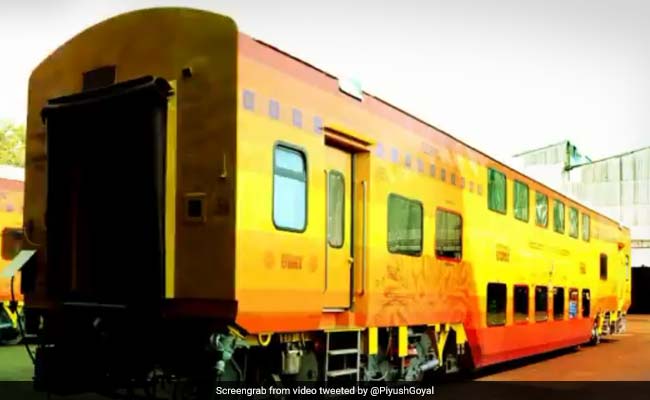 Indian Railways' all-new
Utkrisht Double Decker Air Conditioned Yatri (UDAY) Express
will be on tracks soon. UDAY Express is a double decker train, specially designed to tailor the demands of business class and will operate on three routes initially - Coimbatore-Bengaluru, Bandra-Jamnagar and Visakhapatnam-Vijayawada. Indian Railways' UDAY Express will provide passengers with amenities like Wi-Fi, LCD screens, a dedicated area to enjoy meals, among others, according to a tweet posted by official handle of Piyush Goyal, Minister of Indian Railways.

UDAY Express Routes, Timings And Other Details
1. The first Uday Express is likely to be operational on the Coimbatore-Bangalore route. According to the tweet, the first UDAY Express train will depart at 5:40 am from Coimbatore and reach Bengaluru at 12:40 pm. For the return journey, the Bengaluru-Coimbatore Uday Express will depart at 2:15 pm from Bengaluru and reach Coimbatore at 9:00 pm.
All new Utkrisht Double Decker Air Conditioned Yatri (UDAY) Express will provide passengers with amenities like Wi-Fi, LCD Screens & a dedicated area to enjoy meals. These trains will ply on Coimbatore-Bengaluru, Bandra-Jamnagar, & Visakhapatnam-Vijayawada routes. pic.twitter.com/tYmCVSiObG

— Piyush Goyal (@PiyushGoyal) February 22, 2018
2. UDAY Express will have anti-graffiti vinyl on the exteriors, to give a bright, cheerful look, the tweet posted by Mr Goyal mentioned. The double decker train has been given a bright colour scheme of yellow, orange and pink.
3. Coaches of UDAY Express has been modified to include an area where passengers can enjoy their meal, said the tweet.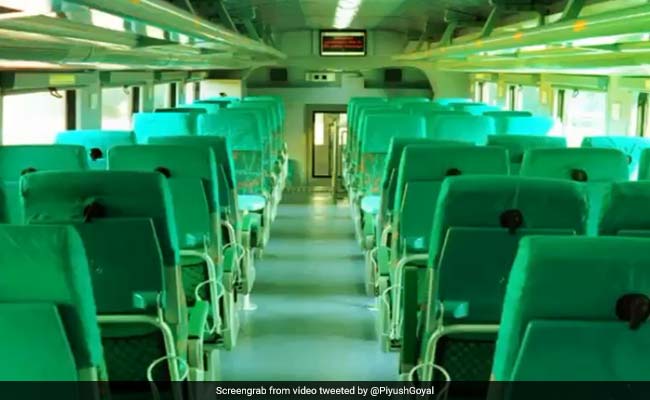 4. A middle deck for dining is also present in the train.
(Read: Railway Train Ticket Cancellation, Refund Rules For AC I, AC 2, AC 3, Sleeper Class)

5. The toilets of UDAY express have been modified to make them modular.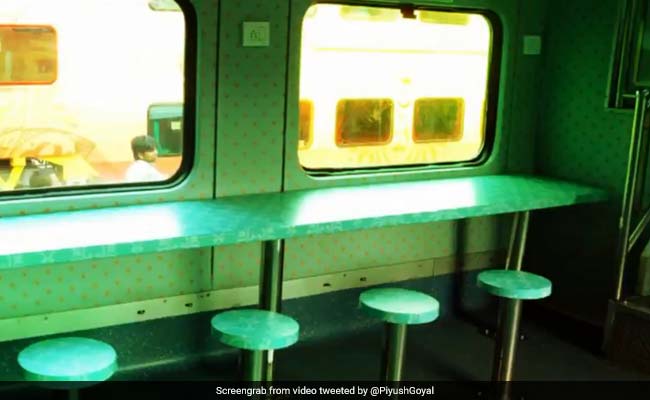 6. For the entertainment and convenience of passengers, the new UDAY Express will offer the facility of on-board Wi-Fi.
(Read: Tatkal Train Ticket Cancellation Rules For Confirmed, RAC, Wait-Listed Tickets)

7. For passenger convenience, coaches of UDAY Express will have LCD screens with passenger's information.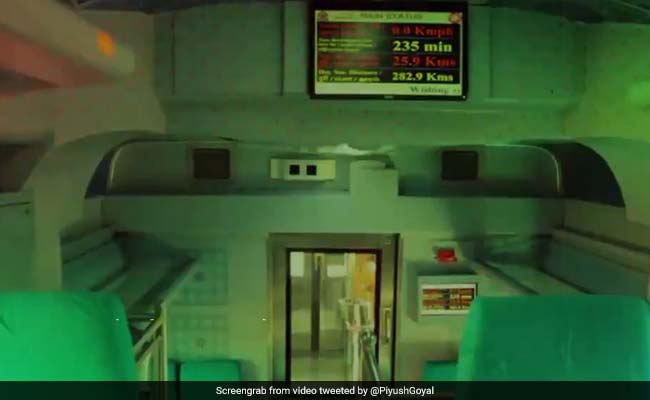 8. Comfortable reclining chairs and adequate leg space will also be available.
9. UDAY Express will initially ply only on three routes, mentioned the tweet.
10. UDAY Express will also have bio-toilets, which is in line with the eco-friendly initiative taken by the government.