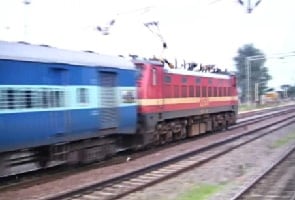 New Delhi:
The Railway Ministry is likely to propose installation of X-ray systems along the tracks to detect faulty parts in trains in the Rail Budget among a series of steps to enhance safety measures for passengers.
A new academy for advanced training of RPF (Railway Protection Force) personnel, which is long overdue, is also likely to be proposed in the Rail Budget 2014-15, which is to be presented on July 8 by Railway Minister Sadananda Gowda.
Railway sources said the 'Trackside X-ray System' will be installed at suitable locations along railway tracks to detect loose or damaged parts of rolling stock which include locomotives, engine, coaches, and wagons.
The X-ray equipment will also be able to detect overheating of bearings, wheels and brake discs.
The installation of the equipment is expected to be one of measures to be proposed by the Railways to curb mishaps as faulty parts of rolling stock is a major reason for increasing number of train accidents, they said.
Since taking over the Railway Ministry after BJP-led NDA was voted to power, Mr Gowda has maintained that enhancing safety and security of passengers is his prime concern and has advocated all possible steps in this direction.
He has also shown keenness towards implementation of recommendations by the Kakodkar Committee to improve safety parameters of the national transporter.
Elimination of unmanned level crossings in a phase-wise manner - one of the key recommendations of the committee - is also likely to find mention in Mr Gowda's maiden Rail Budget.
At present, there are about 12,000 unmanned level crossings which witness the maximum number of train accidents, about 40 per cent of total rail mishaps, in the country.
Since it requires a huge fund to eliminate unmanned level crossings, the cash-strapped Railways is likely to come up with a plan to have a dedicated fund for this purpose.
Railways is also expected to acquire modern devices to tackle foggy weather, which causes delay in train service in Northern India during winter season.
In order to strengthen its security measures, the Rail Budget is likely to announce a new academy for advanced training of RPF personnel. The state-run transporter will also have a Rail Security Management System, a paperless network connecting all RPF posts to keep itself abreast online.
Besides, Railways will expedite installation of CCTV, X-ray machines for baggage clearances and other gadgets which are part of the Integrated Security System at all sensitive stations.
There are 202 railway stations identified as sensitive out of which only 93 are equipped with the system.