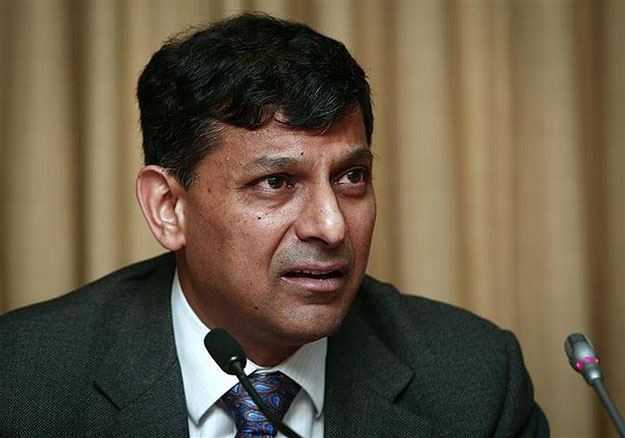 A fortnight ago, as he took over as Reserve Bank governor, Raghuram Rajan promised transparency and predictability, but also said, "That is not to say we will never surprise markets with actions. A central bank should never say Never!"
On Friday, Dr Rajan walked his talk. Eye firmly on the stubborn inflation, he announced a 0.25 per cent hike in the key repo rate in his first monetary policy, a step no one on the Street had anticipated or predicted.
The move sent bank stocks in a tailspin, resulting in the BSE Sensex crashing 600 points, while the rupee slumped sharply to 62.61 per dollar. India Inc. said it was deeply disappointed.
The repo rate is the rate at which banks borrow short term money from the Reserve Bank. It has been hiked to 7.5 per cent, while the cash reserve ratio or the amount of money banks have to park with the RBI, has been kept unchanged at 4 per cent.
Dr Rajan said the central bank's move to hike rates was aimed at reining rising inflation - India's retail inflation is around the double-digit mark and headline inflation hit a 6-month high in August. (Read: What Dr Rajan said in his maiden policy announcement)
However, markets refused to cheer his effort. The BSE Sensex snapped a four-day rally and closed 383 points lower at 20,263.71. The broader Nifty declined 103 points to end at 6,012. The rupee closed 0.7 per cent lower at 62.23 per dollar despite the RBI selling dollars aggressively, dealers told Reuters. (Read: DLF sinks 12% on rate hike)
"Unsurprisingly, the forex market's first reaction has been negative. Higher interest rates have negative implications for growth and equities, both of which are key drivers of the Indian rupee," Standard Chartered said in a note.
India's biggest lender State Bank of India chairman Pratip Chaudhuri said deposit and lending rates will go up post RBI policy. That will be disappointing for millions of consumers who are struggling under the burden of high Equated Monthly Installments or EMIs. (Read: Home loan EMIs set to jump)
It would also dampen sentiments in the banking industry ahead of the peak festival season, when banks expect demand for loans to go up.
Industry was quick to record its disappointment. The CII said Dr Rajan should have focused on growth. FICCI president Naina Lal Kidwai said "High interest rate has been identified as a major barrier to boosting growth... Entrepreneurs are holding on to their investment plans pending any relaxation in monetary policy by the RBI". (Read: India Inc. not happy with rate hike)
Dr Rajan, however, said that the hike in the key policy repo rate cannot be immediately viewed as negative for growth. He added that the repo rate hike affects 0.5 per cent of the entire borrowing of the banking system. (Read: Top 10 takeaways)
The only solace for markets, mainly banking stocks, was the partial easing of liquidity measures announced in July. The RBI decreased the marginal standing facility (MSF) by 0.75 per cent to 9.5 per cent.
The central bank had jacked it up by 200 basis points in July to 10.25 per cent so that it stood 300 basis points above the official policy repo rate, aiming to tighten market liquidity and make it more expensive to speculate against the rupee.
The RBI also reversed some of the other rupee-supporting steps. It relaxed a requirement that banks meet 99 per cent of their CRR on a daily basis. Banks will now have to meet 95 per cent of their CRR on a daily basis.
(With inputs from Reuters)