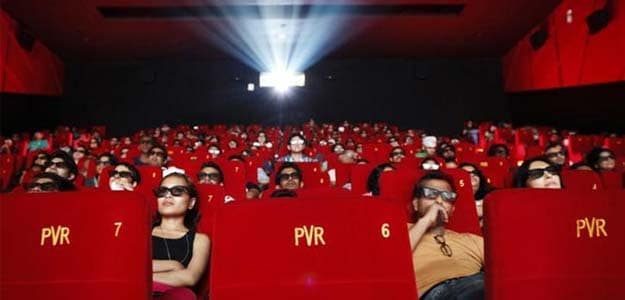 Mumbai
: Multiplex chain operator PVR has earmarked a capital expenditure of up to Rs 250 crore for the current fiscal year for opening new screens and refurbishing the existing ones, a company official has said.
"We expect an annual capex of Rs 200-250 crore this year on rolling out new screens and refurbishment of existing screens," PVR Cinemas chief executive officer Gautam Dutta told PTI.
Delhi-based PVR aims to have around 610 screens in total at the end of the current fiscal year.
"Approximately 65 screens will be added in this fiscal year, in which 8 screens have already been added with PVR Panvel and PVR cinemas at Singapore Mall, Lucknow.
"The new screens being added to the PVR Cinemas are PVR premier only. Currently, PVR has a cinema circuit of 553 screens at 121 locations in 47 cities including DT Cinemas," Mr Dutta added.
PVR recently acquired 32 screens of DT cinemas at a revised consideration of Rs 433 crore, after Competition Commission had approved PVR's proposed acquisition of DT Cinemas from DLF while directing the companies to exclude certain assets from the deal to address anti-competitive concerns.
The transaction had originally envisaged PVR acquiring 39 screens of DT Cinemas from DLF, with a total capacity of around 9,000 seats.
As per the revised deal, PVR has agreed to not expand in Gurgaon and Noida for three years.
Asked if the company is looking at more acquisitions, he said, "With our recent acquisition of DT Cinemas, first we would want to consolidate the seamless merger of DT with PVR. For now, the focus will be largely on organic expansion."
The company plans to have a PVR Superplex in Bangalore and a PVR Icon in Pune. It currently operates a PVR Superplex at Logix City Centre, Noida and a PVR Icon in Mumbai.
PVR is aiming for an overall revenue growth in the range of 15-20 per cent in the current fiscal year.
"We expect the overall footfall growth to be around in the range of 10-15 per cent and our average ticket pricing growth will continue to grow with inflation thereby we are expecting a 3 per cent growth rate in ticket prices along with a double digit growth in F&B (food and beverage) and Ad revenue business," he said.
At present, PVR has 70 million footfalls annually and with the acquisition of DT Cinemas, it expects additional 10 million footfalls.
F&B accounts for 26 per cent of the revenues at present and the company is looking at a double digit growth this fiscal year.
Advertising contributes to around 12 per cent to the revenue and has been growing at a compounded annual growth rate of 32 per cent over the last five years, Mr Dutta said.
Online sales contribute to around 40 per cent of the total ticket sales for the company.