The Employee Provident Fund Organisation (EPFO), which manages provident fund accounts (PF accounts) for employees, has now provided a new facility through which any citizen can generate a Universal Account Number (UAN). A UAN is generated for every provident fund contributing member. It acts as an umbrella for the multiple member IDs allotted to an individual by different establishments, said EPFO on its website, epfindia.gov.in. If an employee generates the UAN himself, it will spare a lot of trouble to employers who face difficulties vis-a-vis this number.
The employee will be able to avail hassle-free services of EPFO with this new utility, the body said. "Now the citizen on going for an employment can submit the generated UAN to the employer, so that the same UAN will be linked to the member ID allotted to member in that establishment," said EPFO.
Keeping in view the difficulties faced by employers, an open functionality is being provided at unified portal through which any citizen can generate UAN. The employee can submit generated UAN to the employer, to avail hassle free services of EPFO: https://t.co/iVJstEWnakpic.twitter.com/bvIcP21xij

— EPF INDIA (@socialepfo) November 24, 2017
The employee will however need a functional Aadhaar card number, the identity number issued by the Unique Identity Authority of India (UIDAI). The employee will get an OTP or one time password on his Aadhaar-linked mobile number via which he can generate the UAN, said EPFO in a press release.
After verification of input data, the system will automatically fetch employee details like name, date of birth, gender, father/husband's name etc from UIDAI and the same will be shown on screen. On the basis of the input/fetched details, a UAN will be generated, the release added.
How to generate EPFO UAN Via Aadhaar card number in 5 steps:
1. On login screen of the Member Portal (https://unifiedportal-mem.epfindia.gov.in/memberinterface/), click on the link "UAN Allotment".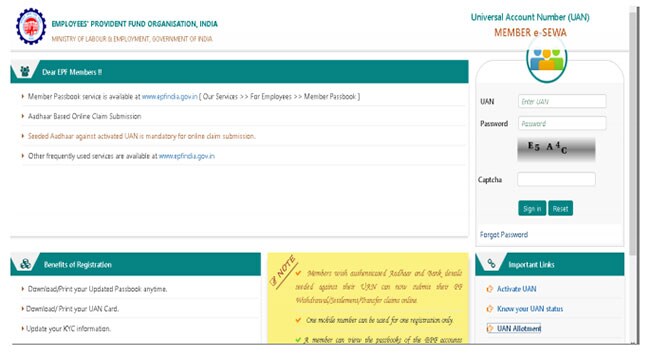 2. In the screen opened now, the user has to enter his/ her Aadhaar Number and click button "Generate OTP". On clicking of the same OTP will be sent to his/ her registered mobile number.

3. On entering the OTP and accepting the disclaimer provided therein by clicking on the box, the 'submit' button will be enabled. Now click 'submit' to proceed further.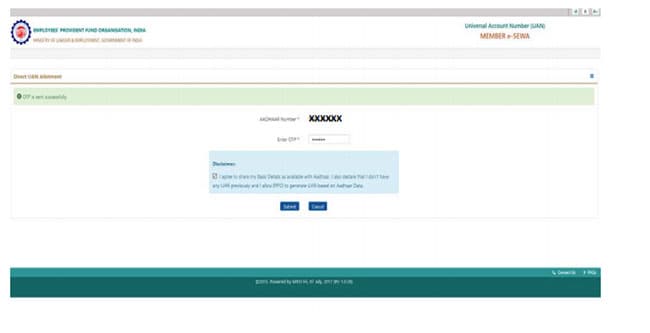 4. The screen displaying the basic details available against the Aadhaar entered by the user will be opened. The user can verify his/ her details and enter the requisite data in the mandatory fields provided in the screen. The user can then click 'register' after entering the captcha and selecting the box in the disclaimer section.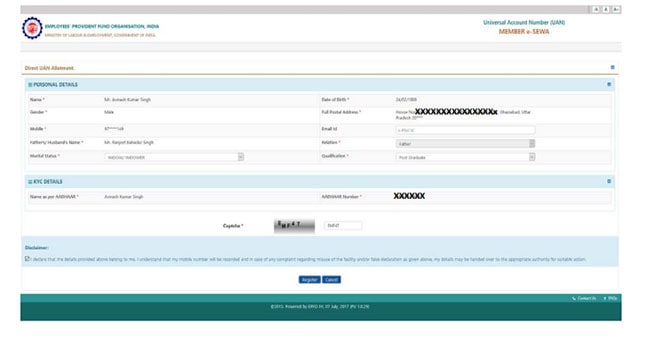 5. On clicking 'register', the UAN will be allotted and will be displayed as a message to the user.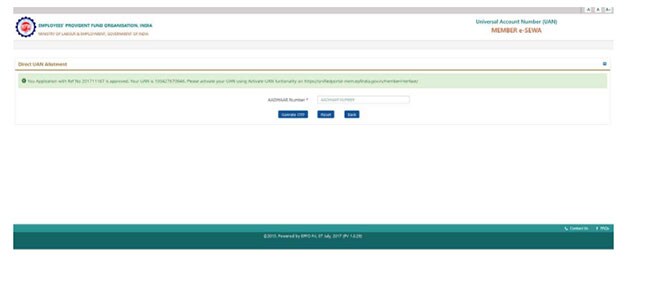 "Offices are requested to widely publicise this utility so that more and more citizens can take advantage of the same," EPFO added.