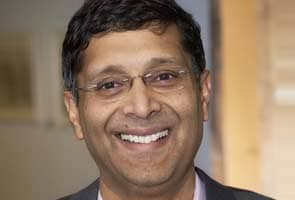 New Delhi
: Prospects for the Indian economy look "very bright" with the remarkable turnaround witnessed in recent months on the back of lower current account deficit and the slew of reforms unleashed by the new government, Chief Economic Advisor Arvind Subramanian said here on Wednesday.
"In July last year India was on the verge of macro-economic crisis... However, 16 months on, the picture is very different. There has been a remarkable turnaround in the economy since the last few months."
"The biggest change is the new government in power that has unleashed a slew of reforms. Prospects for the Indian economy should be very bright going forward," Mr Subramanian said while speaking at a workshop.
Stating the current account deficit is now within "manageable territory", he said, "India has benefitted a lot from the falling commodity prices which have helped bring down the current account deficit."
In the global context India is looking "very special", he noted, adding that World Bank on Tuesday revised downwards growth for "every major country except India".
Pointing out that the cash balances of state-owned enterprises look "exciting", Mr Subramanian suggested they invest more, adding that the PSUs could make a "real contribution to kick start the economic growth".
Speaking on the occasion, Union Heavy Industries & Public Enterprises Minister Anant Geete said his ministry had a "zero interference" policy in the day-to-day functioning of public sector enterprises.
"The Boards of CPSEs (central public sector enterprises) have been provided with a large measure of flexibility and autonomy to deal with day to day management issues. We will give more autonomy, if needed, to the public sector enterprises," the minister said at the international workshop on 'Performance Evaluation and Management of State Owned Enterprises'.
The World Bank on Tuesday said that India would catch up with China's economic growth in the year 2016-17.
In its report, the multilateral lender also forecast a growth rate of 7 per cent each in the fiscal year 2016 and 2017 as against China's 7 per cent and 6. 9 per cent, respectively.