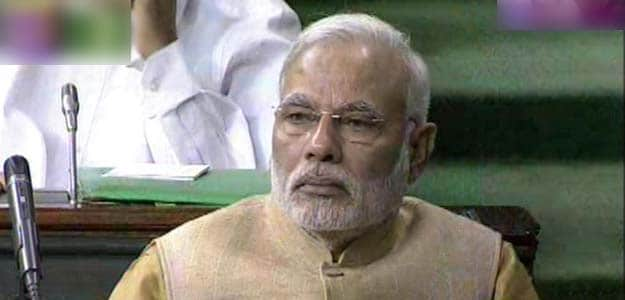 New Delhi:
The Narendra Modi government on Thursday unveiled its maiden Budget that seeks to revive growth and curb borrowing, but left open questions on how it will reduce the fiscal deficit and restore investor confidence.
Expectations had been high that Prime Minister Narendra Modi would use India's strongest election mandate in 30 years to take radical steps comparable to the 1991 market reforms that unleashed an era of high economic growth.
After two weak years, the government announced steps to boost capital spending in Asia's third-largest economy and reassure foreign investors that they will get fair treatment.
Yet, Finance Minister Arun Jaitley stopped short of halting retroactive tax claims against foreign investors. Britain's Vodafone said in response it will pursue its fight against a years-old $2.2 billion charge.
"We shall leave no stone unturned in creating a vibrant and strong India," Mr Jaitley said, promising to raise the pace of economic growth to 7-8 per cent in three to four years from less than 5 per cent now.
Mr Jaitley, 61, told lawmakers he would uphold the "daunting" fiscal deficit target for this year inherited from the last government - 4.1 per cent of gross domestic product - but admitted that this would be a challenge.
"The intent appears to be there, but the measures have not been really thought through," Atsi Sheth, Moody's sovereign credit analyst for India, told Reuters.
Standard & Poor's, which has long warned India that it may lose its investment grade rating unless the government works harder to balance its finances, said the budget did not change its assessment.
"I have no authority to rate ratings agencies, but I'll only tell them to be a little more realistic," Mr Jaitley said, in reference to criticism that his "cautious" budget did not do enough to reduce subsidies.
Mr Jaitley announced an 8 per cent rise in spending, roughly unchanged after taking inflation into account. The government will also seek to raise a record $10.5 billion from asset sales - four times what the previous government collected from privatisation moves in the fiscal year that ended in March 2014.
Among the asset sales would be some holdings in state-run banks, Mr Jaitley said, but he added the government would keep majority ownership.
In his two-and-a-quarter hour address, the Finance Minister raised the minimum income level at which people start paying tax and hiked levies on cigarettes and soft drinks.
Investor friendly?
Mr Jaitley announced he would raise ceilings on foreign investment in the defence and insurance sectors and loosen rules for foreign e-commerce retailers and real estate investors, but still bar non-residents from taking majority control in projects to supply the world's largest arms buyer.
Limits on foreign investment in defence and insurance ventures will go up to 49 per cent from 26 per cent - less than sought by defence contractors to justify sharing technology when they locate operations in India.
In another signature initiative, he said the government will approve a sales tax reform this year to unify India's federal states into a common market, boosting revenue and making it easier to do business.
Investors had piled into Indian stocks on hopes that Mr Modi's leadership and mandate would break a logjam thwarting reforms during the 10-year tenure of his predecessor Manmohan Singh, whose coalition government became increasingly divided.
However, the specific measures announced by Mr Jaitley fell short of bullish expectations and Indian stocks, bonds and the currency gave back gains late in the day as doubts about the budget arithmetic emerged.
Andrew Colquhoun, head of the Asia-Pacific Sovereigns Group at Fitch Ratings, said he was "currently unsure how this (fiscal deficit target) can be met without further revenue-strengthening or expenditure-saving measures". Both Moody's and Fitch rate India on the bottom rung of investment grade.
"Bitter medicine"
Mr Modi, 63, won election in May with a pledge to create jobs for the 1 million people who enter India's workforce every month. Since taking office, he has warned that Indians should expect "bitter medicine".
Mr Jaitley said he would cut the fiscal deficit to 3.6 per cent by 2015-16 and 3 per cent the year after.
He found room in the budget for projects to upgrade India's food distribution infrastructure, raised subsidies on fertilisers and left diesel subsidies untouched - measures to aid farmers who face poor monsoon rains this year.
Mr Jaitley sought to reassure investors by promising a stable tax regime and saying the government would not "ordinarily" create new liabilities retrospectively, but said several cases in the court will be pursued.
Vodafone and India have been locked in a standoff since the company acquired Hutchison Whampoa's 0013.HK Indian mobile assets in 2007.
India's Supreme Court dismissed the demand in 2012, but the government at the time responded by announcing retrospective legislation to change the rules.
The British firm said it will "continue the process of international arbitration".
($1 = 60 rupees)
Copyright @ Thomson Reuters 2013