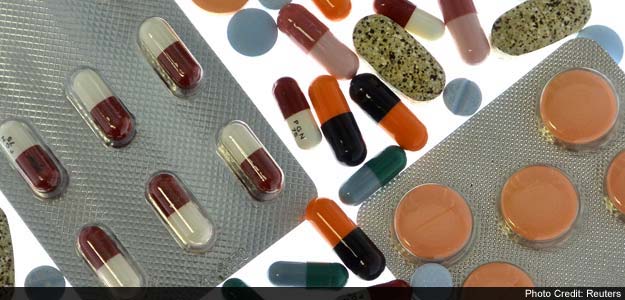 Mumbai:
The government of India is likely to raise the number of drugs deemed essential and subject to price caps, people directly involved in the process said.
A panel formed by the health ministry is meeting for the first time on Tuesday to consider adding more drugs to the list of essential medicines, all of which would then come under price caps, one of the people said. The move would make the drugs more affordable in a country where 70 per cent of the people live on less than $2 a day.
Making more drugs subject to price caps will draw the ire of global drugmakers like Pfizer Inc, GlaxoSmithKline Plc and Abbott Laboratories, all of which have a large presence in India's $15 billion pharmaceutical industry.
The global drugmakers have already been hit by wide-ranging government-imposed price reductions and a legal system with a history of disallowing patent protection in recent years in an emerging market that is a vital growth driver for the firms.
Bringing more drugs under price controls would dash hopes for an easing of the populist drug policies of the previous federal government under new, business-friendly Prime Minister Narendra Modi, industry analysts said.
"It is surprising that yet another committee is being formed (on price control)," a top executive at the Indian unit of a large global pharmaceutical company said, declining to be named due to sensitivity of the issue. "This (is) quite the antithesis of what is the purported philosophy of the new government."
India last year raised the number of drugs that are subject to price controls to 348 from 74 earlier, covering up to 30 per cent of the total drugs sold in the country, according to industry officials.
India's pharmaceutical sector sub-index extended its loss after Reuters reported the committee's formation, trading down 0.2 per cent at 0656 GMT, while the main Mumbai market index was trading up 1.1 per cent.
Shares of GlaxoSmithKline Pharmaceuticals Ltd, the India unit of GlaxoSmithKline Plc, reversed their gains to fall 0.1 per cent. Lupin Ltd, India's fourth-largest drugmaker by revenue, was trading down 0.4 per cent.
DECLINING REVENUE, MARGINS
Health Minister Harsh Vardhan and Secretary for the Ministry of Health and Family Welfare Lov Verma did not respond to mails for comment on the panel meeting. The sources declined to be named because the details of the plan are not public.
Healthcare activists say that India needs to expand its list of medicines in the so-called National List of Essential Medicines (NLEM) to improve access as the drugs that are under price caps now don't adequately address healthcare needs.
Many medicines, such as the anti-infection agent amikacin, and the antibiotic cycloserine, which are included in the World Health Organisation's essential medicines list, are not included in the Indian NLEM, said Chinu Srinivasan, member of the All India Drug Action Network, which has been campaigning for drug price caps.
The pharmaceutical industry, however, has primarily blamed such price controls for declining profit margins in India. Many companies are still reeling under the impact of last year's expansion of the price cap list.
EBITDA (earnings before interest, tax, depreciation and amortisation) margins at GlaxoSmithKline's Indian unit fell to 20.7 per cent in the year ended in December from 31.3 per cent the year earlier, according to Thomson Reuters data.
"Most companies have taken the last round of price cuts in their stride, (but) they are not happy about it," said Sujay Shetty, India pharmaceuticals and life sciences leader at consultant PricewwaterhouseCoopers.
"I don't think the industry would be receptive to another round of price cuts."
LOWEST SALES GROWTH
Pharmaceutical sales in India, a key emerging market with sales of patented drugs in Western countries slowing, recorded about 6 per cent growth in 2013-2014 - its lowest ever - mainly due to price controls, according to research firm Crisil.
Global drugmakers have had a tough time in India's $15 billion market, but with 1.2 billion people increasingly seeking both on and off-prescription drugs, the market is too big for firms to simply throw in the towel.
India stunned the industry in 2012 by overriding a patent on cancer drug Nexavar made by Bayer AG and issuing a so-called compulsory licence to Natco Pharma, allowing the local firm to sell a copy for a fraction of the price.
Pricing pressure was a factor in researcher IMS Health projecting India will be the world's 11th biggest pharmaceutical market by 2017, from 13th in 2012, rather than eighth by 2016 as forecast less than two years ago.
For Indian drugmakers like Wockhardt Ltd and Ranbaxy Laboratories Ltd, a raft of sanctions imposed by regulators in the last couple of years due to serious production quality lapses also added to the earnings pressure.
Copyright: Thomson Reuters 2014