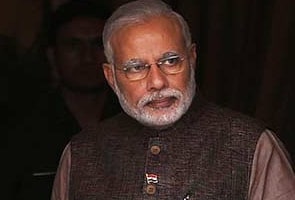 New Delhi: Prime Minister Narendra Modi on Saturday reviewed progress of Aadhaar project and is believed to have discussed the possibility of using the platform to resume Aadhaar-based direct benefit transfers (DBT) of subsidised schemes.
It will also help monitor attendance of government officials.
The discussions, which were attended by Home Minister Rajnath Singh and Communications Minister Ravi Shankar Prasad, looked at the possibility of resuming the Aadhaar-linked direct benefit transfers in a bid to improve delivery mechanism.
The scheme was suspended by the previous UPA government.
The government, sources said, would conduct a dry run for Aadhaar-linked attendance system for the government officials on September 14.
Among those who attended the meeting was Unique Identification Authority of India (UIDAI) Director General Vijay S Madan.
The high powered meeting reviewed progress of the Aadhaar project, particularly in Uttar Pradesh and Bihar where other schemes are facing difficulties due to low enrolments.
At present, 66.99 crore Aadhaar numbers have been issued. In Uttar Pradesh, about 4.62 crore Aadhaar numbers have been issued against a population of 19.95 crore.
In Bihar, around 1.41 crore Aadhaar numbers have been issued against a population of about 10.38 crore.
The Aadhaar project, which has been in focus of the new government, can substantially reduce the duplicity of beneficiaries and help plug leakages.
As mandated by the Prime Minister's Office, the Planning Commission and UIDAI, which implements the Aadhhar project, have jointly prepared a report on the Aadhaar-linked DBT scheme.
The commission and UIDAI's senior officials had visited around 300 districts across the country to study the impact of the Aadhaar-based scheme.
The officials have submitted the report on the Aadhaar-based DBT testing in these 300 districts.
On January 30, the UPA government had suspended the ambitious direct benefit transfer for LPG (DBTL) scheme, where consumers in 289 districts in 18 states got cash of Rs 435 per month in their bank accounts for purchasing cooking gas at market rate.
The DBTL scheme was put on hold due to complaints that many were not getting the benefit in absence of either an Aadhaar card or a bank account-linked Aadhaar.
The working of the UIDAI had come under scrutiny of the Supreme Court, which in an interim order, had observed that the identification number cannot be made mandatory for availing of benefits of the government's subsidy schemes.
As per experts, government would have to seek apex court's permission to modify earlier interim order for resumption of the Aadhaar-linked direct benefit transfer scheme for making payment of benefits.